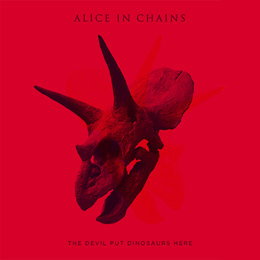 Album Title:
The Devil Put Dinosaurs Here
Second album by this iconic Seattle band since its comeback in 2005 (with singer/ guitarist William DuVall replacing the departed Layne Stayley), and the follow-up to 2009's Black Gives Way To Blue (which was reviewed by colleague Cosmicmasseur for an Oct. 26 posting of that year), which was certified Gold by the RIAA for having sold in excess of half a million copies. To promote the album, the band appeared at several festivals and did and extensive European tour, followed by a North American tour (with Mastodon and Deftones) in late 2010. Earlier that same year, lead guitarist/ backing and lead singer Jerry Cantrell had, in an interview with MTV, mentioned that the band was definitely planning to record a fifth album, but (as with its predecessor) was waiting until enough riffs were created to sift from and write new material. Since then, original bassist Mike Starr (whom was with the band from its foundation to 1993, when he was replaced by Mike Inez) was found dead in his Salt Lake City home on March 8, 2011.
Writing sessions for the new album were eventually started in early 2011, but were delayed when Cantrell needed surgery on one of his shoulders (he'd already been treated for the other one 6 years earlier). In December 2012, Cantrell himself announced the finishing of the recording and the first single from the album (track "Hollow") was debuted online on Dec. 18 (it was made available for digital download – with an official music video – in January 2013. Further single releases were for "Stone" (released March 16) and "Voices" (not sure when exactly that one came out). Upon release in the US, the album moved 61,000 copies, earning it a #2 position in the Billboard 200 chart. In Canada, it moved only 7,300 copies, but weirdly enough it still went to #2 in the album charts there! Critical reception was generally positive (check the album's page on Wikipedia for more details), and I'll sorta join in on that tendency...
...you see, my first comment to the previous album when I heard it at ConcreteWeb HQ (the editor-in-chief and I again putting in a long afternoon of work to keep the website updated)...about a year ago, I guess...was that I missed that typical snarl which Stayley always put in his singing. And I guess I still miss that somehow. However...it cannot be denied that The Devil Put Dinosaurs Here is a milestone of an album, confirming the pace for what's to come! Although musically the band continues in its old vein (and, just to make a mends, the band itself considers itself an Heavy Metal act, and whomever takes the trouble to listen carefully will certainly agree that at occasions AIC's music is closer to Heavy Metal with elements of Sludge, Stoner and Hard Rock, than to what is generally considered Grunge!) they have gone a different way vocally, and have not tried to be a copy of their past. So, thumbs are up, even if I'm not gonna nominate the album for my "Best Albums Of 2013" lists!
For your acquaintance with the album's material, follow the usual ways of checking the band's own website or pages on facebook, MySpace, ReverbNation, Last.fm, etc...or the album's page on your trusted online store websites (Amazon, iTunes, Napster, etc...). Alternately, check the album at your local record store, or go see the band when they come through in your neck of the world!