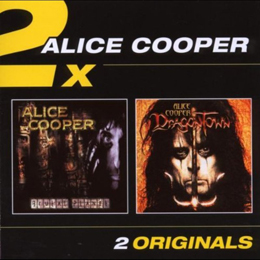 Album Title:
Brutal Planet / Dragontown
Armoury Records re-releases two vintage Alice Cooper albums, 2000's 'Brutal Planet' and 2001's 'Dragontown'.
I know the man has been in the music business for quite some time now, but I've never paid him much attention I'm afraid.  He does have some good songs, but that hasn't been enough to draw my attention. And while listening to these two albums, it became clear to me that this wouldn't change in the future.  The man knows how to write a good song, that's for sure, but after a few tracks I get bored. It's not his voice but something else that makes me not really like the man's music.
And since most die-hard fans will undoubtedly already own these albums, the only added value I can think of is that you get two albums at the same time.