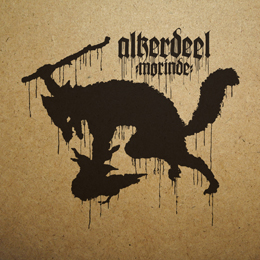 Release Date:
Friday, February 24, 2012
Belgium's Alkerdeel did record a handful of demos and EP's before, but Morinde indeed is the first real studio full length in seven years of existence. Recordings like Luizig, De Bollaf and, especially, De Speenzalvinge, were accepted with pleasure and gratitude within the underworlds of the scene, so I can imagine the impatience of the audience for this release. I am glad too with the at-last-finalisation of the album.
Anyway, the quartet (with some Headmeat-members in its ranks, and 'new' bass player Steven 'QW' of Serpentcult / Leng Tch'e / Thee Plague Of Gentlemen / Welkin-fame; guitar player Pui, by the way, used to perform with Leng Tch'e as well) did record Morinde; four tracks that last for more than forty minutes.
Morinde isn't that differing from Luizig when it comes to the general approach. The main difference might be the enormous progression this band made since. Honestly, the compositions on this album are the most mature Alkerdeel hymns ever. The band has always been able to outreach the 'average' Sludge-scene, yet this time it's way beyond average.
The (almost) unique yet mind-teasing combination of ultra-heavy Sludge and psychopathic Doom, including elements from Underground Black Metal, blasting Noisecore, lo-fi Thrash-Punk and droning Post-Metal, comes with a sound that is both filthy and massive, focusing on grimness rather than comfort (can you hear me reaching another musickal orgasm?). Isn't that sweet?
No matter if you're into (and now you'll undergo a very 'general' summary): ugly Black Metal (Aura Noir, Lugubrum, NunFuckRitual, Beherit, Goatsblood), filthy Sludge (Tombs, Sourvein, Burning Witch, Lord Mantis, Zatokrev etc.) or grim Doom (Wolves In The Throne Room, Nortt, Horseback, Stumm, Woods Of Belial), it's all the same smelly nastiness that we all do like, not?!
Tasty and sexy, making me hungry and horny!