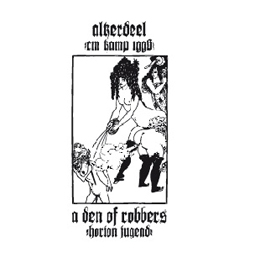 Album Title:
CM Kamp 1996 / Horion Jugend
Release Date:
Thursday, January 17, 2013
This split-record has been released on vinyl (12"EP) in a limited edition, in 333 copies. 2/3rd of it will be sold at live shows exclusively, 1/3rd was made available via mailorder, yet I guess this edition has been sold out in mean time. So check it out at the band's live performances.
The material of Alkerdeel consists of three previously unreleased tracks, recorded during the Luizig sessions in 2006. It got registered in a garage environment, with a dictaphone, which gives the whole that frenzy sound. Or: the sound sucks. For being previously unreleased, these Black / Drone / Sludge / Doom / Noise hymns might interest the hardcore fans of the band, of course, but I ask myself: what about new followers? At the same time, for being available at the band's live concerts only, only fans of Alkerdeel will have to deal with it, so I guess that must be another proof that our Mother Earth is rotting away. Hurray!
(FYI: see the update on January 6th 2013 for the review on Alkerdeel's Morinde-album)
A Den Of Robbers were quite silent for more than a year, but they return with these eight assaults. They come with their self-created, own-faced mingle of Crust, Sludge, Grind, Punk, Doom and Black Metal, noisier than ever before (not for being messy, but for being so wonderfully deconstructive) and with a more structured effectuation (damn, 'noisy' and 'structured' at once, got it?). This band is so subtle in its approach, attested by top-creations like ultra-droner In Shades or Sludge-monster People's Temple.
The whole has been mastered by James Plotkin (of O.L.D. / Khanate / Scorn / Regurgitate / Atomsmasher-fame), by the way, and lasts for thirty seven minutes.