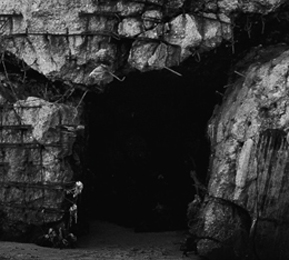 AmenRa is one of the most important Belgian / international acts within the Post / Sludge-scene, active for more than a decade and influential both within the Belgian scene as outside. During the early 2000's, AmenRa released four albums under the Mass-moniker (self-released or available via Hypertension), followed by some newly written stuff, released as self-produced studio material or in split / EP-edition.
The band recently joined ConSouling Sounds' roster, and this label is about to re-release both first Mass-recordings on vinyl. Mass I is foreseen, apparently, for early 2013, and the self-released second Mass-record is now a fact (even though Hypertension did re-release this stuff in 2008 as well, albeit on CD-format).
(what about part III and IV?)
At the same time, ConSouling Sounds will release the band's first live-album too, including material recorded during several live performances in 2009 and 2010 in Greece, Holland and, of course, Belgium. For the review: see elsewhere in this Special.
The three-track-EP Mass II was, as mentioned in this review's intro, originally self-released in 2005, and re-released in 2008 (Hypertension, the label that did also took care of the release of part III and IIII, in respectively 2008 and 2009); now it appears in a new version with two bonus tracks, re-mastered by nobody else but Billy Anderson (think: Sleep, High On Fire, Brutal Truth, Neurosis, Ramesses, Melvins, Dragged Into Sunlight and so many others)! The re-edition is limited to 500 copies only (three different types), so you better hurry up in case you etc…
Mass II is one of the examples that interprets why the Belgian Sludge-scene is not of lesser importance than the North American one. As a matter of fact, it's this band that might be (one of) the strongest ones from Belgium. Listen to the subtle equilibrium in between heaviness and melody, in between experiment and craftsmanship, in between power and technics. The somewhat droning Ultra-Sludge / Post-Hardcore stands on its own, distinctive from the 'famous' US-acts, and characterising an own approach that defines a unique and original vision of both creativity and minimalistic subtlety (cf. the Swiss and French scene).
Tracks like the Ritual-succession show the band's open-mindedness by penetrating the well-known approach with elements from Post-Rock and even Old School Doom-riffs. Something one cannot but appreciate, of course…
My main problem, yet at the same time the only problem I do have with this album, is the inferior sound. Especially those drum patterns have been under-produced; it's like the initial mix had been taken care of in some container or a hollow metallic box?... But it's just nitpicking for the whole Mass-series isn't but superiority!
Oh yeah, can I please you with this communication: AmenRa are finishing the recordings on their newest piece d'art, Mass V, to be released in a couple of weeks / months; all together: hurray!
[normally I don't score a re-release, yet for 1) this album being so great, 2) this band being so great and 3) the re-edition including bonus material, I'm happy to make an exception]