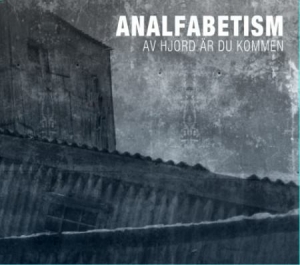 Release Date:
Tuesday, November 24, 2015
I did never dislike the international Death Industrial scene, but it isn't but fair to say that the Swedish scene must be one of the most convincing, influential and prominent ones. One of the (many) artists known within this specific genre is Fredrik Djurfeldt, known from the outfit Knös (with material on Malignant Records too) (or active with Electro-project Severe Illusion as well, to be correct). Under the moniker Analfabetism, Fredrik now releases the album Av Hjord Är Du Kommen, a seven-tracker that was mastered at Steel Hook Audio by John Stillings. It gets released, evidently, via Malignant Records as 6-panel digipack, limited to 500 copies.
Actually, Av Hjord Är Du Kommen is much more Noise-laden than Knös. As from opening track Hundar the listener can experience an ominous and mesmerizing mixture of Power Electronics, Death Industrial, Dark Ambient and Harsh Noise, resulting in quite a remarkable sound and atmosphere. The sound is quasi superb, for the balance in between noisy creepiness and darkened melodies is top-notch. Haunting synth lines are gently raped by rusty noisescapes and apocalyptic frequencies, and this in an equilibrium that focuses on both extremes. Evidently, it does influence the atmosphere, being oppressive and claustrophobic at the one hand, but fetching, almost zestful at the other hand as well. Once in a while the whole even turns towards martial grandeur, catching the essence of obscurity, victory, pride and elegance.
Most pieces come with a certain monotony. This does not necessarily mean something bad, but the long-stretched compositions might lack of tension from time to time. Yet then again, since there is quite some diversification in between the individual creations, the missing feeling of adventure gets often annihilated by the attractive force of that variety. It focuses on the essence of the scene, the primal basics of Old, with the mechanical and discordant sound that strengthens the sinister spheres. The injection of several layers of sampling too intensify the hidden variation.