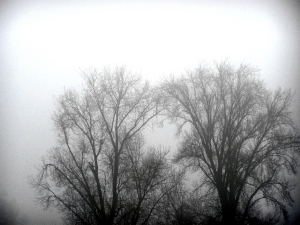 Both Arbre and Brouillard are grandiose French acts, which I praised intensively with their former Distant Voices-releases. Also the label itself is quite unique, which you can find back in each of the reviews I did for them in the past (besides both bands on this split: also Misery, Celestial Dirge and Scars From A Dead Room passed the revue; check them out on the site!). Once again it's extremely limited, this release (49 hand-numbered copies only), and once again everything (lay-out) is handmade.
The split-tape consists of one track by each act, both of them having the very same lengthy duration: 24:39 minutes.
_________________________________
Brouillarbre opens (cf. side A) with XII by Arbre, a rather mysterious one-man act from somewhere in France. Since the latest album, ingeniously called II, ended with the composition XI, this is a rather logical successor, at least title-wise. Yet aurally too, XII goes on in the very same (great) vein of both former albums (besides II there was also the album, indeed, I). XII starts with some scratchy noises and then, after a couple of minutes, slowly transforms, i.e. a floating layer of synth-integrity joins the noisy sounds. It takes another couple of minutes, but as from the fourth minute or so, Arbre bring the sonic expression of their raison d'être: grim, little fast-paced, highly melodic and long-stretched Atmospheric Black Metal. It is quite fast indeed, but I guess especially the drum computer assaults cause that feeling of lightning eruptions. Also some furious outbursts strengthen that merciless feeling of victory and intolerance. The main focus are the dreamy, floating and truly epic tremolo melodies, which lead the whole experience throughout this powerful yet, at the same time, atmospheric journey. All this gets darkened by shriek screams from beyond any human dimension. Of course there are several tempo-changes and breaks, as well as ambient and noisy-industrial intermezzi. Those ones give the whole a mysterious and ultimately eerie feeling of discomfort (and at the same time relief and calm too!). Some acoustic excerpts are part of the whole too, nicely interfering with the fierce outbursts. However, it is a coherent totality, naturally evolving and developing into a grandiose aural experience.
The sound quality isn't optimum at all, something I did dislike in the past too. Especially the bass lines are absent, the drum computer sounds too prominent from time to time, and the vocals might have put much more on the foreground, I think, for those are truly fabulous. Another remark is this – but isn't a negative thing, just consider what I will try to explain. XII is supposed to be one lengthy composition, but I think it rather sounds like several tracks put directly behind each other (only 'separated' by those industrial, ambient or noisy intermezzos). Once again, I do not consider this as a failure, for there is quite some cohesion. Even those instrumental excerpts are part of the whole. I just wonder why this stuff gets promoted as being one single composition.
So, with exception of the production / mix, I cannot but admit that Arbre are un act supérieur, et je l'adore!
8,5/10
_________________________________
Side B brings the track Brouillard by another somewhat mysterious French one-man project, Brouillard. They convinced me with their nameless debut about two years ago. Their contribution starts in a comparable vein, being a noisy soundscape, yet it takes only two minutes before the mystic and misty aura of hypnotic Black Metal shows its grim, bleak face. The vocals are much more guttural, but the general concept is somewhat comparable: highly melodious guitar atmospheres, also of the 'tremolo'-kind, create an intensity so asphyxiating and mesmerizing. Brouillard's execution too is of the epic kind, yet the atmosphere is less nature-inspired, and more warlike than Arbre's. Here too the sound quality isn't satisfying, unfortunately, but once again this isn't but a minor problem which I will excuse them for. I think the result in a whole must get rid of mocking the production only. Anyway, here too there are acoustic and ambient interludes, which sometimes are just so wonderful. The metalized parts are more of a repeating constant instead of a collection of separated pieces, which makes it a lot easier to speak about cohesion. But that was the case in the past too, so why would it be different this time? As a matter of fact, I think that the track Brouillard might be the most impressive piece this French one-man army ever created.
9/10
_________________________________