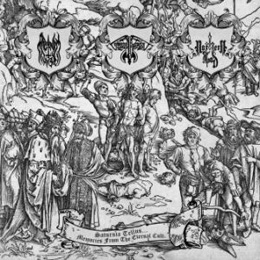 Album Title:
Saturnia Tellus… Memories From The Eternal Cult
We recently received more than a hand full of releases from Ukrainian label Vacula Productions, and a couple of them have been reviewed in mean time by undersigned. Some others are about to follow, but I surely want you to inform about / to introduce to the Saturnia Tellus… Memories From The Eternal Cult-split, consisting of three Italian acts, each of them bringing two compositions.
Saturnia Tellus… Memories From The Eternal Cult opens with an untitled intro, created for this split exclusively by Grimwald's Sariel. It's like a medieval fight on a square etc… Nothing breath-taking, yet not irritating either. Just an introduction…
After that intro, Arcanum Inferi appear with their two tracks, which were recorded at the end of 2012 at the home studio (owned by band member Frozen), who took care of production, mix, engineering and mastering. The quartet (guitar player / lyricist / composer Maagher Kxeratum, drummer / producer Frozen, vocalist Baram and bass player Sethyel) bring energetic, rhythmic, forceful and epic Black Metal with quite some focus on melody and mysticism; indeed, not that unusual for a band from Italy. Despite the lack of originality, it's quite varying in tempo and melody / structure, with inclusion of a certain distant 'Second Wave' approach, especially when talking about the fierceness, melody lines, and vocal grimness. But at the same time, Arcanum Inferi truly know how to translate those Nordic sounds unto that specific execution that cannot but be East-Mediterranean (read: Greece / Italy and, for my part, Neo-Atlantic). Despite lacking of an own face, there is no reason to dislike this act at all, for their contribution might make the grimly-injected listener longing for more.
Then comes the trio Grimwald (Sariel-g, v; Helvoth-g, k; Graven-d), who recorded their material around the same time at the Factory Studio with producer / master / mixer Gabor Buhalla. And damn, I know that it's nothing but a subjective impression, but what these guys do is truly fabulous – despite totally lacking of originality whatever. They are not as technically skilled as Arcanum Inferi, but the atmosphere is at least as breath-taking and obscure. This band too seems to majestically combine elements from the mighty Nordic scene with those specific details that do characterize the mighty Mediterranean approach. Besides, this band is able to climb up to a higher level, if only with those synth-laden excerpts or the majestuous changes in tempo.
Third outfit is Northern Tod of Hortern Draconis Ice (with companions Nathas Svart and Tanabas Izenthorn), who registered these two compositions with Benito Tronca at the Free Sound Studios. And first this: the production. In comparison to both other projects on this split, Northern Tod unfortunately suck. Seriously, whatever kind of Black Metal you do perform (and I am into the scene for almost three decades): this does suck. That's a pity, it truly is. The main element of my personal disappointment is that the material actually is so fine, so great… What Northern Tod bring is fast and rhythmic, merciless and up-tempo Nordic-influenced Black Metal of the most misanthropic kind, once again lacking of originality (and once again: who cares anyway???), and once again showing the excellence of the Italian scene. This material thrashes, taking no prisoners whatsoever, but they rather want to focus on what the Norwegian / German / Swedish / … scene had to offer two-three decades ago – and who is to blame them???
The album ends with a nameless outro, which was created by Arcanum Inferi's Frozen. It's a small-sighted acoustic thing that does not really bring something truly additional, though it does not bother either. But I do not think it has any additional value.