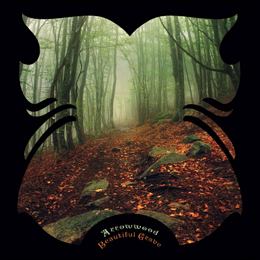 Our dearest Concreteweb's headquarters did recently receive a cd-r / mp3 with seven Folk-oriented albums. As a matter of fact, Strawberry Oracle Promotions will give some renewed attention to seven bands / projects within the Folk scene by having this material put on the foreground again. It deals with both recent as well as pretty old recordings, and in order to give this stuff a boost, I will be so kind to have it reviewed.
Arrowwood's Beautiful Grave is the only new release on the Strawberry Oracle-sampler. This second Arrowwood-album was recorded by British front-woman / singer Chelsea Robb (actually, she resides in North America right now) with assistance of some guest musicians, like :of the wand and the moon:'s Kim Larson and Pythagumus Marshall of Novemthree-fame. Besides Chelsea's vocals (which I will come to immediately), the instrumental use is pretty impressive: over twenty instruments, including reed organ, hurdy gurdy and flute.
The album opens with Under Wood A Winding Star, which brings instrumental sounds (wind bells, harmonium, and I don't know what more) and Chelsea's voice. The latter is a ghostly-whispering interpretation of fairy-like beauty, not of the neo-classical kind, but rather somewhere in between the likes of Julie Cruise (you know, the one who did the famous Twin Peaks theme) and Cranes' Alison Shaw. Midnight Carnival is an instrumental piece, with percussions only, but brought in a rather ritualistic and hypnotic tradition, and therefore not annoying. The same goes for the third track, Dreaming Knoll, which is dreamy, esoteric and minimalistic again by its simplistic basics. After those two instrumentals, Chelsea re-appears, this time with reversed-recorded vox and an enormously bleak, quasi non-existent use of instrumental additions. It's as from the fifth song, finally (luckily to some, I guess), that the album really 'opens' (even though I could live with the trend which was set by the first compositions. Northwood introduces acoustic guitars and flute, besides different percussions and the voice of the lead singer, and it brings the core of Arrowwood's musical interpretation: the most beautiful side of ghastly spirituality, based on the purity of dreams and nature. …or something like that…  But as from here, Beautiful Grave combines the esoteric sounds from minimal-nihilism à la the first tracks, with a floating, fluttering, levitating atmosphere and a specific Dark-Folk-alike attitude. The fundaments are based on different percussions (about half of the rather short compositions are instrumental) and the haunting voice of the lead singer, sometimes amplified by flutes, acoustic guitars, sounds of Nature (wind, crows, singing birds) etc., and it's a dreamy experience that exiles mindless happiness (which differs from many other Merlin's Nose-stuff!).
Oh yes, We Are Dark Wells, the track with P. Marshall, is the most Neo-Folk-oriented song (the only one, as a matter of fact), reminding me a little to the likes of Blood Axis or later Der Blutharsch, if you want to - FYI.
…a dream about a dream in the forest…, that's what you can expect aurally with Beautiful Grave…
FYI: Beautiful Grave comes as CD, but there's good news for vinyl-freaks too, because it's issued on LP as well, in a (limited) deluxe edition with thick case-wrapped 1-mm cardboard heavy-gatefold sleeves. And apparently there are 100 copies pressed on coloured vinyl as well…