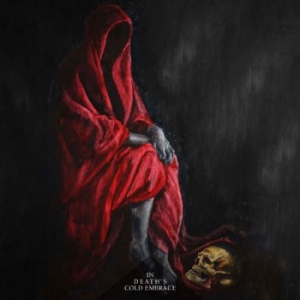 Immortal Frost Productions is known especially for the many releases on compact disc, yet as from a couple of years ago, though quite modest, the label also released some material on vinyl. It all started with a split 12" EP in very early 2015, gathering Finland's finest Azaghal and Belgian act Ars Veneficium, which involves label owner S. Now the label comes up with the tenth vinyl release, which is once again a split that includes Ars Veneficium. This time, the collaboration is with Ulvdalir from the Russian Federation.
Besides the digital 'option', there are three vinyl editions: red, grey and opaque white vinyl, each of them printed in an edition of 100 copies; quite limited indeed, so don't hesitate, do not waste time to get your copy!
On one side, In Death's Cold Embrace brings A Thousand Weeping Angels (04:14) by Ars Veneficium. For more info about this band (with a new bassist in the line-up), please check out one of the reviews I did for them (enter the band's name in the 'search' tab to find out). Their contribution is, well, what can I say. In the vein of their glorious past, the band brings a fast, energetic and timeless no-nonsense Black Metal track, strongly inspired by the old school scene from Scandinavia (and Sweden more specifically), yet with an own twist. A Thousand Weeping Angels is enormously melodious in essence, led by technically well-executed riffs and supported by a harsh rhythm section. Striking are the blasting drum patterns, giving the whole that devastating energy, yet the rhythm string section too is more than supportive to the melodic basics. Thanks to the superb production / mix, the equilibrium in between lead and rhythm parts is top-notch. And then you have that malign, vicious throat of frontman S., leaving no room for rest or tranquillity.
Ulvdalir are not a stranger either, I guess, within the worlds of Black Metal Majesty. This project from Saint Petersburg did surprise me a lot earlier this year with their newest epos …Of Death Eternal (Iron Bonehead Productions; I still have to finish and publish my review on that recording, which I do consider their best effort to date), yet on this split they come up with a new track (and not one that was simply taken from that last full length), called Litany Of Death (04:36). And my first reaction on the very first seconds of this song were, and still are: Hellhammer worship! Indeed, this is different once again. The tempo is not that extremely fast, yet still the whole sounds enormously energetic, even thrashing and oh so old skool. In a mostly primal, archaic sense, primitive and minimalistic, the duo convinces by having this dirty sound, those sharp-edged solos, that thunderous rhythm section, and those ugly, raspy blackened growls. And the lyrics in Russian, well, isn't that almost eroticising?
Two totally different compositions, two dissimilar bands, but an open-minded Black Metal head might experience an orgiastic pleasure when listening to this split 7" EP.