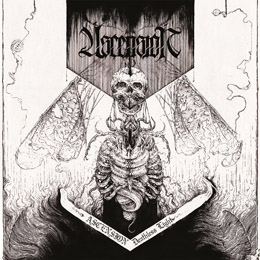 It's been way too long, but now, after more than four years, German horde Ascension return with a new full length, which will be called The Dead Of The World. The review will follow soon. As an appetizer, Ascension release the two-track EP Deathless Light, which includes one track that will make it to the upcoming album. The other one is a track exclusive for this EP.
The title track is a lengthy piece (8:24) convinces as from the very first riff. Deathless Light stands for raw and fast Black Metal with a harsh rhythm section and brutal vocals. There are some wonderful solos, a couple of dissonant breaks, perfectly balanced changes in speed, and powerful, colossal riffs and leads. Both the fast and the slow chapters of this song define a suffocating obscurity. Besides, the production is ideal: little unpolished, yet well-mixed (cf. the equilibrium of all players).
The exclusive track Gardens Of Stone (6:28) starts little depressed and melancholic, even funereal, and the tempo is ultimately slow and pounding throughout the whole song. It's rather comparable to the Post-Black trend (not the industrialised side, yet the dark-asphyxiating one) or the DSBM-current, yet it maintains Ascension's sound. But seen the fact that this great track will not be released anymore, except for on this EP, it does make this two-track release a convinced recommendation.
Believe me if I say that I do look forward to listen to the upcoming full length. I received it in mean time but didn't have the chance to listen to it yet, but I think not being disappointed; that's not a possibility…