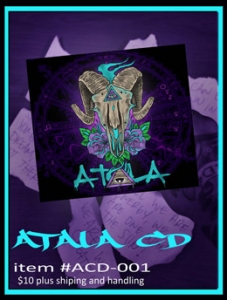 Release Date:
Monday, November 24, 2014
I have to admit that I am not that much 'into' Stoner, but despite (or is it: because of) my lack of knowledge, I've never understood the moniker 'Desert Doom', which seems to be a doomier version of Stoner. It does not really matter, but I think it is important to mention this, for the review of this album deals with Desert Doom Music. But we'll found out more soon.
Atala were formed by Kyle Stratton after the demise of Rise Of The Willing. Together with his former Rise Of The Willing-colleague John Chavarria (bass) and Forever Came Calling's Jeff Tedtoatoa (drums), Kyle (guitars and vocals) recorded this first album under the Atala-moniker at The Sanctuary with top-engineer Scott Reeder, who worked with bands like Karma To Burn, Black Math Horseman, Sunn O))), The Obsessed, Orange Goblin etc. before. The promotional package, and that's something I just need to mention, is quite impressive, for coming with an extended information package, including a patch, pictures and a biography, which also mentions no one else but former Machine Head's Tony Costanza as manager (he did pretty much the same for bands like Crisis, Crowbar or Debris Inc., FYI).
Anyway, Atala debut with a self-titled eight-tracker, which lasts for fifty minutes. And I can't get rid of the idea that this stuff is heavily continuing Rise Of The Willing's material. The songs on this album are enormously doomy, and then I mean the truly hard'n'heavy kind of (traditional) Doom. The melodies are pretty haunting, based on crafted guitar lines and some psychedelic leads. I like the fact, and I am sure it has been that way on purpose, that some of the leading riffs sound dissonantly false (cf. in the opener Broken Glass or the very lengthy composition Seas Of Fear). When it comes to the rhythm section, there are two extremes too: the massive supporting one, and the prominent melodious one. Cool thing for sure. The vocals are mainly of the 'clean' kind, little mourning and yammering, but sometimes Kyle starts barking like a mad dog. Here too the contrast isn't but fine. I need to mention the variation too, and then I am referring to the song structures especially. Faster and brutal pieces interact with slower, sober ones, melodic parts interchange with pounding ones. There are quite some influences from the seventies' Rock scene too, such as the sabbathesque bass lines. There is quite some groove within the tracks, quite some psychedelica, quite some melody, and quite some discordance - a not that unique combination, though satisfying is most aspects.
If you take some elements from bands like Kyuss, Electric Wizard, Eyehategod, Alunah, Soundgarden, Bongzilla, Sleep, Goatsnake and, of course, Rise Of The Willing - and for my part even Black Sabbath (cf. Labyrinth Of Mind), Pentagram, Saint Vitus or Queens Of The Stone Age- then you might have an idea of what this sh*t stands for.