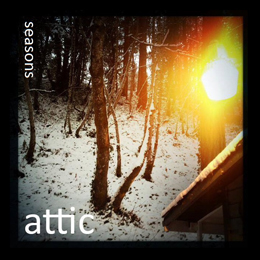 Release Date:
Tuesday, September 23, 2014
Southern Oregon-based Attic recorded the self-released album Seasons at 23 Below Studios (Wilderville, Oregon) with producer Scotty Gissel. With Seasons, the quintet (guitar players Christopher Pilcher and Nathaniel Tracey, drummer Otis Blankenship IV, bass player Joey Souza, and vocalist Jeremy DeGonia) bring thirty five minutes of groovy and technically executed Black / Death Metal. The instrumental approach of these eleven rather short tracks (eleven tracks with only two clocking over four minutes, and more than half of them lasting in between two and three minutes) is convincingly Death-laden, with some Thrash-edged elements and some distant hints to Black Metal, but half of the vocals (death grunts interfere with blackish screams) and the atmosphere are elements that bring the Black-scene to mind. The combination of a classic approach (cf. the traditional riffs and rhythms, as well as the rather 'common' growls and screams) with modern aspects (amongst which the full-bodied production) is nice, and so is the variation in speed. The latter is mainly up-tempo to fast, but Seasons includes several slower parts, being at least as dense and heavy as the faster ones. And with an instrumental intermezzo like Snow, the album even includes some more tranquil moments.
With Winter knocking at our door, being my favourite season, Seasons does sound like a soundtrack to warm up your snowy winter evenings at the fire place. Forget jingle bells or Glühwein; this material is what you need!