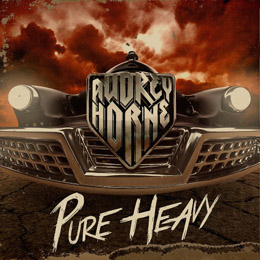 Release Date:
Friday, September 26, 2014
'Audrey Horne' return with their new album just over a year since the highly enjoyable 'Youngblood'. Most of the band members are also in death/black metal bands, yet Audrey Horne is more a homage to the classic rock of bands like 'Van Halen, Thin Lizzy and Iron Maiden'.
Kicking off with 'Wolf In My Heart' you can hear why the band are so good, as they have that unnerving act of penning highly catchy metal/hard rock songs. Vocalist 'Toschie' is perfect for this style of music, possessing both the power and melody to soar above the music, as can be heard on 'Holy Roller', a song made for live shows.
Guitarists 'Ice Dale' and 'Thomas Tofthagen' have fun trading 'Thin Lizzy' approved solos on the lead song 'Out Of The City' (check out the fun puppet-led video on YouTube). 'Tales From The Crypt' keeps the fun element alive, with a big fat 80's metal riff and name checking 'Dave Lee Roth, Nikki Sixx' and other 80's hair metal heroes. 'Boy Wonder' wraps the album up with a bang, featuring more impressive guitar duelling.
A couple of songs have yet to gel like 'Volcano Girl' and they throw in a curveball in the short, almost ballad-like 'Diamond'. Great fun from start to finish and if you like 80's rock/metal get into Audrey Horne now!
Tracklist:
Wolf In My Heart
Holy Roller
Out Of The City
Volcano Girl
Tales From The Crypt
Diamond
Into The Wild
Gravity
High And Dry
Waiting For The Night
Boy Wonder