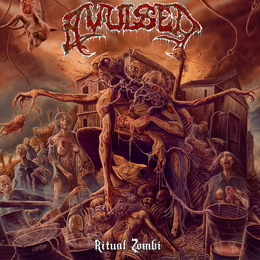 At the end of the eighties / early nineties, I was quite 'active' within the underground scene. Not as musician for sure, but I did some promotion for bands that back then were still young and unexperienced (now some of them are 'huge', like Arcturus, The Gathering, God Dethroned, Ancient Rites, Samael, Mantas (pre-Death), Demigod, Morbid Death (sort of pre-Enthroned), etc.). I had some contacts all over the world with same-minded human beings, both other tape-traders / promoters as well as musicians. One of them was David Sanchez Gonzalez aka Dave Rotten. He's known for this band, Avulsed, as well as Christ Agony especially, but one might know him from bands like Sad Eyes, Golgotha, Unwom, Putrevore or Yskelgroth too. Besides, he's very active as graphical designer for bands like Necronomicon, Centinex, Paganizer, Undergang or Phlegethon. And he used to be owner of the strong Drowned-label, and currently he manages the sublime Death Metal-label Xtreem Music.
Avulsed started more than two decades ago, and I still remember their first demo tape, Embalmed In Blood, which I did like because it really sucked. As from then on, this Spanish band released new material almost every year; EP's, full lengths, compilations, live albums or DVD's, keeping the fans satisfied. When it comes to the studio-recorded full lengths, Ritual Zombi isn't but the sixth title (the last one, called Nullo (The Pleasure Of Self-Mutilation), was released in 2009, and this is the first time the band went silent for quite a while), and it has been recorded in Spring 2013 at the Madrid-based studio La Casa Del Ruido. The mix was done at the famous Moontower Studios, and the whole was mastered in June at the über-famous Unisound itself!
I'd like to start with the title of the album: Ritual Zombi. It reminds us all, of course, to the classic Zombie Ritual, not?! So guess which song Avulsed did cover? Indeed, indeed it is…
What strikes me is the melodic approach on this album. No, it does not mean that the brutality or aggression have been replaced by pathetic melancholy; on the contrary. But Ritual Zombi is less grinding than most stuff we're used from Mister Rotten. Still it breathes the essence of Gore-Death in a mostly old schooled spirit. Isn't that nice? And more than once, the whole sounds extremely 'Scandinavian'. Especially the scenes from Sweden and Finland at the end of the eighties and during the earlier nineties come to mind, going for both sound (even though the production is much more professional and perfected) and attitude.
However, most tracks do sound alike, and in comparison with the past there is not that much progression. The stuff still sounds all right, like it always did, but there is nothing more, nothing additional that would lift up this album above the huge masses we're overcrowded with lately. I have to listen to inferior stuff for sure, being 'in charge' of the Death / Grind material out beloved Concreteweb-label does receive each single day, but I have the honour to enjoy more inviting releases too from time to time. This stuff floats somewhere in the middle; it's gratifying, but not that prodigious.
FYI 1: on October 12th, Unholy Prophecies release a two-tracker (7"EP) which includes a Nihilist-cover track and a new song.
FYI 2: the video clip for the track Dead Flesh Awakened is available right now; check out the .net-thing starting with three w's, or the youtoub-stuff…