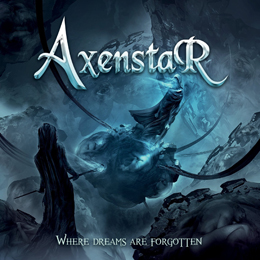 Album Title:
Where Dreams Are Forgotten
Release Date:
Friday, November 28, 2014
What started out as a coverband called Powerage in 1998, quickly changed it's name to Axenstar, and in the mean time started writing it's own material.  Since then these Swedes have been working hard, resulting in their first album in 2002, followed in 2003 by the 'Far From Heaven' album.  They released their third album 'The Inquisition' in 2005, after which they signed with Massacre Records, on which they released their fourth album 'The Final Requiem'.  They released their fifth album 'Aftermath' on the same label in 2011, and following the release of this album did a headline tour of the UK and also played at various club and festivals around Sweden.
Then they signed with the Swedish label Inner Wound Recordings, and this resulted in this, their most recent album.
I must admit this band had so far escaped my attention apparently.  Which is a shame, if the quality of their previous albums is as good as this one.  What a wall of sound these guys can create with only 4 musicians is astonishing.
If you're into powermetal, go and check this band.  It's clear they got their inspiration from bands like Sonata Arctica or Helloween.  The songs are catchy, and well played, with almost no keyboards in them, which makes a nice change. 
Axenstar will probably never become the next 'big' band, but they deserve their place in the firmament of rock and roll.