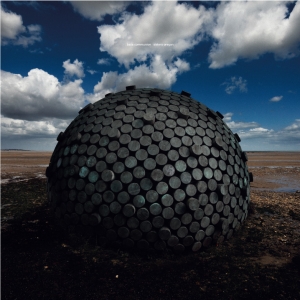 Porcupine Tree frontman Steven Wilson acts under some other synonyms too. One of them is Bass Communion, which is a totally different outlet compared to his Rock-oriented bands or projects like, for example, higher mentioned Porcupine Tree, Storm Corrosion, Blackfield or Incredible Expanding Mindfuck.
Under the Bass Communion moniker, Steven records and releases material as from the end of last century, often joined by befriended musicians like Dirk Serries, Colin Potter or Muslimgauze. His latest recording is Sisters Oregon, getting released on vinyl (10") via Substantia Innominata, a series under the protecting wings of Bremen, Germany based 'Non-Entertaining Muzak' label Drone Records. It comes in an edition of 500 copies, including stunning, appropriate cover artwork by Carl Glover, who did collaborate with Steven Wilson a thousand times before.
Steven stated that this work is especially based on a 'gig' by a boys choir in London, which is quite a mysterious message – especially for I do not hear any boys singing around. But 'mystery' for sure is a keyword on this record. For (unfortunately) less than half an hour, four mystic and dreamlike pieces of Drone / Dark Ambient pass through, accompanying the listener through mental dimensions of the unknown. It's like long-stretched waves of post-mortal imagination, a sonic expression of spiritual beauty and introvert despair at the same time. Floating layers of soundwaves are interspersed by subtly hidden sound collages, far away and distant, yet remarkably present as well. It makes me sad and humble at the one hand, and enlightened, even levitating at the other (not literally; I'm still sitting on my chair). It does remind me of some material on Cryo Chamber or Cyclic Law, for what it's worth.
Both sides are strongly comparable, yet despite the monotonous approach, there is such a rich sonority. Some deep listens reveal a magnificent and glorious adventure, a quest for deepness and contemplation, a travel towards self-development and self-discovery. This is like the manual that guides you from birth to death, from death to afterlife, through vast landscapes of nothingness, in order to find the meaning of our raison d'être. It's lovely to be part of that search when having Sisters Oregon (no idea what this title exactly means) surrounding me, injecting my eardrums with carefully balanced soundscapes.