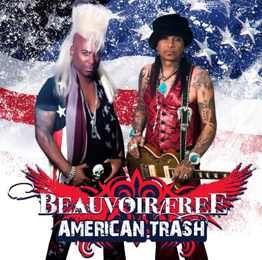 Jean Beauvois is probably best known for his work with Crown Of Thorns, but he also played in Voodoo X and even in the Plasmatics, a punkband that was fronted by Wendy O. Williams.  Besides that he has also some solo work, as well as playing, producing and writing for and with countless other artists.
On this brand new album, he has rejoined forces with Micki Free, who also was a member of Crown Of Thorns.  And what this album brings us is basically a continuation of Crown Of Thorns.  So what you get are very good guitar riffs, and melodic choruses.
If you were a fan of Crown Of Thorns, wait no longer, go out and buy this album !  It contains 11 trademark 'Beauvoir – Free' songs consisting of some catchy, rocking songs, as well as a couple of good ballads.