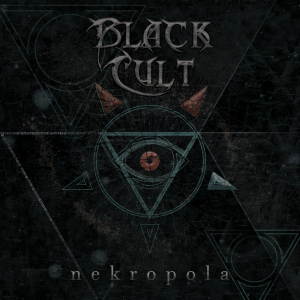 [brief review, yet based on another release from 2020 / 2021 that deserves all additional promotion, in a dedicated series about Satanath Records, GrimmDistribution, Symbol Of Domination Productions]
Nekropola is the third album by Croatian horde Black Cult. It took quite some time, since the last one, Cathedral Of The Black Cult, hails from 2016. That second one was a huge step forward, I think, compared to 2014's Neo-Satanism (though I did not dislike that one either), and this newest full-length is another huge step into increasing greatness once more.
A concise introduction: released in a partnership of GrimmDistribution and a new label, InsArt Records, which was founded by this band's founding member Insanus. 500 physical copies, i.e. jewel-case CD which includes an eight-page booklet, with lyrics in both Croatian and English. Recorded in England (Dungeon Studio, also run by this guy) in 2018 / 2019 by main member Insanus (guitars and drums; song-writing; production and mix), with vocalist Morbid and bassist Lesovik – experienced through the likes of e.g. Gorthaur's Wrath, Czaar, Hibernum, Zvijer and many more. Duration: forty-two minutes.
Content: timeless Black Metal with a huge technical execution, dissonant structures, a huge variation in tempo (yet mainly speed-up), ugly and grim vocals and a monumental production. That's it.
No, seriously, Nekropola delves deeper than ever into the (bottomless?) pit of high-tech grandeur. Oh, pay attention; I am not saying that this album is like a Progressive or Avantgarde thing! That wouldn't cover the package at all. It's just remarkable that the band's evolution into instrumental sophistication, and engineered song-writing, has grown once more. It surely fortifies the swirling energy and dynamism (which goes for both ultra-fast as well as the slower / mid-tempo parts). The basics are created around a rather traditional approach, with quite evident roots within the (Scandinavian) Nineties scene (the mighty Second Wave 'trend'). At the same time it is melodious (with several high-leveled solos and ingenious tremolo leads) as it is forcefully rhythmic (the whole rhythm section is simply devastating in its excellence), but as said, the whole gets injected by a modernistic technicity, resulting in sonic discordance and distinctive creativity. Also vocal-wise, there is an interesting variety, though the main screams are deep-throaty and raspy (and morbid; haha, what a joy…), heralding this project's messages of blasphemy, misanthropy and insanity.
The production – as mentioned it was done in the UK-based studio of Insanus – is vicious, ostentatious and vehement, yet still well-balanced when referring to the mix. The focus lies on the dissonance of sound-texture, catapulting this sick / sickened / sickening experience into the contemporary presence, leaving that 'old styled' reference somehow behind. Still there is a certain 'buzz' going on as well, especially within the (lead) guitar sound, which strengthens the discomfortable approach of Nekropola without any remorse. It benefits the whole album, and surely the less-fast fragments (like certain chapters in Catharsis, to give an example).
Remarkable too is the erring cover-song Fear Is For Fools, taken from the old Cold And Worse demo by Hibernum (which is a band that includes Insanus as well as Black Cult's side-member Azaghal; inactive for many years, yet apparently they reformed recently)
I mentioned my aim to keep it short and concise this time. So, here it is: the end! But you can possibly imagine my personal message: recommendable material once more, and a new milestone within this Croatian band's history! I look forward listening to their next one (and the new Hibernum stuff too, of course).
https://grimmdistribution.bandcamp.com/album/056gd-black-cult-nekropola-2020
http://satanath.com/distro/item/056gd