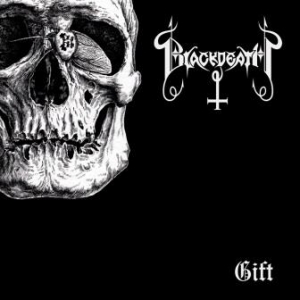 Russia's Blackdeath (the one from Saint Petersburg) did climb up to be one of the most notorious acts from their home country on international scale. Originally known as Draugwath, then Black Draugwath, the band performed primal and nihilistic stuff in the vein of earlier Darkthrone and Burzum, yet throughout the years, their sound turned more into an own one, containing more creativity and experiment, yet never giving in to trends or modern gimmicks, and always keeping the origins, the roots of all Evil, in mind. Their newest gift to mankind simply continues this trio's permanent evolution.
Gift was recorded during autumn 2014 in their home city (RP Studio), it got engineered and mixed by Kirill Pogonichev, and mastered by no one else but Marduk's Magnus Andersson at his Endarker Studio. The band (original members Para Bellum and Abysslooker, and long-time collaborator Maya) signed to Heidens Hart Records a couple of years ago, and the result, clocking almost fifty minutes, got released once again by this great Dutch label in early 2015.
Gift stands for nasty blackened filthiness that maintains, at the one hand, a profound Old Style identity, yet at the other hand it comes with that kind of eccentric execution that betrays progression, modernism, craftsmanship and experimentalism. The latter might repel some, but wait: it's meant the figuratively way, i.e. akin to the Post-Black oriented wave of last decade. …feeling more comfortable now?
Damn yeah, the whole album consists if melodious structures abruptly interrupted by sudden breaks and unforeseen hooks, many changes in tempo, and quite a variation in elementary execution. Yet all this comes with an inherent cohesion, which does characterise this fine band. It lifts the individual songs, which are quite cool yet not necessarily extraordinary, up to a higher level, especially seen the grotesque sound quality and fabulous mix (riffs, drum patterns and bass lines come out so well, and that isn't but one of the many great details on this album!)? Actually, it isn't that new, but I have the impression that Blackdeath go even further than before. And this brings me to a certain dilemma: does 'progression' mean a change for the better, or does it not (for example for being too exaggerated, or becoming 'lost' of the initial roots)? Well, I think it is rather clear that the answer on this riddle is a positive one, for the permanent evolution of this band isn't but a success-story. With Gift, Blackdeath go on in the vein of, and further than, whatever they did in the past, and this in a permanently positively-evolving flow.
Imagine a mixture of Blut Aus Nord and Darkthrone, or Wolves In A Throne Room with Keep Of Kalessin, and you might have a clue of this Russian band's own-faced sonic realism… Sounds attractive, does it not?!