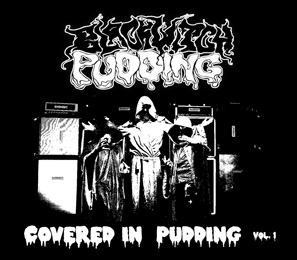 Album Title:
Covered In Pudding Vol. 1
Blackwitch Pudding are a trio of wizards (Space Wizard, Lizard Wizard and Wizard Wizard), formed about six hundred years ago, out of some witch's womb. They were trained in the Dark Arts of Doom and Witchery, searching for cosmic nothingness, creating heavy riffs and even heavier smoke. That's my impression of this combo's existence, inspired by the smoky biography I received.
The trio recorded and released a first LP last year, Taste The Pudding, which got mastered by nobody else but Billy Anderson (Grime, Amenra, Ramesses, Orange Goblin, Buzzov*en and tens of others), so that gives a first clue, doesn't it. Now Blackwitch Pudding return with Covered In Pudding Vol. 1, a four-track EP that gets released digitally and on tape, though the latter being limited to an edition of 200 copies only. What these wizards bring is a unique form of Doom-oriented Metal. The main vocals, to start with, are little grunting and throaty, and not of the falsely-sung clean kind, but they are truly fine, and for this kind of approach enormously interesting. Sometimes they differ, like in Gods Of Grungus, when they turn out to be rather Proto-Rock oriented, yet even then it fits to the whole concept. The drum patterns are very remarkable, for sounding as if they want to create a leading melody on their own. And no matter if an excerpt is atmospheric, hazy or grumpy, they always bring a fabulous characteristic identity. The guitar leads are hypnotic, ominous and / or creepy, yet throughout the whole album they do impress. Besides the few solos are of a mostly intriguing kind: sober yet impressive, sometimes psychedelic, then again gazing or just noisy; and in some cases, like half-way the final song, Saint Vitus easily penetrate your brain. And the rhythms section, to end the identification of the individual instrumentation, is of a mostly heavy kind, with sluggish, even buzzing bass lines and monolithic guitar riffs, covering the whole in an extremely dense mud. Besides, the sound is very nasty and rough-edged, but at the same time the only possible sonic expression of this kind of grumpy Doom / Stoner.
To be honest, I was afraid to listen to this album the first time, but I was convinced immediately. And now, experiencing this stuff for another time, I am still impressed by the unique approach of this smoky combo.
THC and Doom, it's a combination that did work four, even five decades ago, and still it does create aural excellence, but this material can even cause a natural trip though green and pink dream-worlds… Unique and surprising, and therefor highly recommendable!