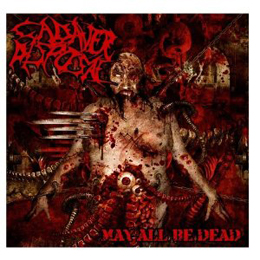 German act Cadaver Disposal was formed at the end of 2010 by former members of Braindead (Stefan Meyerhoff and Jörg Kuchenbecker) and Final Depravity / Deus Inversus (Dennis Baron). Soon they were joined by Belphegor / Mor Dagor / Bethlehem's Torturer, and right before the end of that very same year, Cadaver Disposal released the downloadable demonstration recording Signum Gloriae. The success was enormous and soon Nihilistic Empire Records, hailing from the same region as the band (Duisburg, more specifically), offered the band a record deal. In mean time the band recruited a new drummer, Sober Truth's TJ Anger, after Torturer left, and in summer 2012 the guys entered the Duisburg-based AMP Studio for the recording of their debut full length. At the end of that year they ended the recording sessions and the result is now available for the pleasure of our auricular organs.
This first full album, which lasts for about forty minutes, deals with a concept that lacks of any originality: modern warfare, yet with an original point of view: seen from the vision of a former Desert Storm soldier, who's struggling with death and murder.
When it comes to the musical side of the album, the war-theme is evident to the core. May All Be Dead is a soundtrack player in a tank while getting near the battlefields, it's the background music while bombing down the enemy with fire-blasting terror. It sounds like a perfectly balanced symbiosis of, at the one hand, the pounding brutality once elaborated and perfected by Bolt Thrower, mixed with, at the other hand, the primal essence of the USDM-scene, i.e. the likes of Massacre.
The speed is not fast at all, even though there are a couple of fire-in-the-ass accelerations. The main speed is rather pounding and slow to mid tempo, which gives a focus on heaviness rather than on aggression. perfect, I think, for this album has not to do with the gore aspects of battle, yet with the mental scars of warlike horrors. I couldn't have been translated better than with this kind of mid-paced bulldozer rhythm. Simple but evidently pure quintessence.