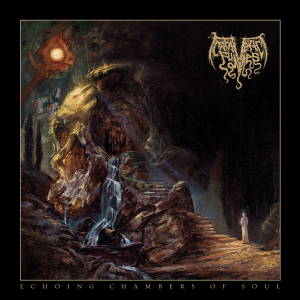 Release Date:
Friday, December 10, 2021
Cadaveric Fumes were an act (indeed 'were', for they did split up in the meantime, apparently, yet without inner fight or disdain) from the North-West of France (close to the Belgian border, in case of interest), being active for about a decade yet without any 'huge' mainstream representation whatsoever. This four-piece (with members who are active as well as Repugnizer) recently resigned to Swedish finest Blood Harvest Records in order to have their debut (and sole) full-length released. That officially first album is called Echoing Chambers Of Soul and comes via several platforms: digital and physical (tape, compact disc and vinyl). The LP-edition, by the way, was foreseen for January 2022; the other versions were available as from December 10th 2021.
The band did work on the 'perfected' sound for five years to achieve this 'reinvented' result, being Echoing Chambers Of Soul. It was a long period of struggle, with changing line-up basements and evolving visions of music(k)al approaches. But the result of this hard-working period has now been finished under the working-title of Echoing Chambers Of Soul, an album that consists of seven tracks and which clocks about thirty-three minutes.
Even-though this album is this French band's one and only full-length (or better: because it is their sole full recording), one must cherish this effort. It is a purest tribute to the Old School, and then I am referring to the scenes from thirty to thirty-five years ago (second half of the Eighties and very beginning of the Nineties). Echoing Chambers Of Soul is a pure dedication to the origins of mere Death Metal. But it goes beyond the limitations of any subgenre.
An important remark is that the sound quality results in a spectrum above expectations. At the one hand, you can still enjoy that unpolished, rough-edged production. It's raw and rusty, lacking any unnecessary form of decency or surgically cleanliness. Especially within the guitar-sound, that somewhat Swedish-like asperity shows its bloody teeth. Yet then again, the mix is so professionally completed, with all string parts, voices and drums / percussions acting like equivalent and cohesive sections.
The drum-work (by Léo Brard) is simply stunning. At moments, the rumbling drum-salvos strengthen the destructive and violent concept, then again, for example at slower moments, the whole decelerates while maintaining a pushing and authoritative attitude. And it does sound so organically, the whole of the time, thanks to the cool song-writing, experienced craftsmanship, and that remarkably satisfying sound.
The cavernous old-styled attitude gets characterized as well by the ultimately deep-growling and putrescent-roaring throat of Romain Gibet. His grunts do have a little rattling elegance, being abyssally deep and having a very dismal, murk timbre. It adds a fabulous dimension of tenebrosity, covering the while in a shade of unworldly oppression. Besides, it's a surplus that the pronunciation of the English lyrics – and that's not that evident for a band from French soil – is of a prominent level. …a perfidious tongue that sings…
Even-though the whole album sounds enormously coherent in execution and atmosphere, there is a lot to experience, a lot of variation. This goes for the tempo for sure. In a very organic way, Cadaveric Fumes combine fast and slow excerpts (remarkably more than before) the whole of the time. No matter if a piece is morbidly doomed, then again blasting-fast; the harsh energetic force remains with an uncompromising, vengeful conviction. Also the injection of spherical passages (within the tracks, yet also through dark-ambient pieces like Waters Of Absu), fierce solo-work (Wenceslas Carrieu; once in a while even trespassing the territory of progressive techniques), prolific drum patterns, grooving bass-lines and that marvelous equilibrium in between brutal passages and competently-written (and accomplished) melodies is of an ingenious level.
Oh yes: truly stunning artwork, created by no one else but great visual artist Adam Burke (think: Horrified, Perdition Temple, Vorga, Hooded Menace, Abhoria and many, many others)
https://bloodharvestrecords.bandcamp.com/album/echoing-chambers-of-soul
https://cadavericfumes.bandcamp.com/album/echoing-chambers-of-soul
https://shop.bloodharvest.se/product/cadaveric-fumes-echoing-chambers-of-soul-cassette/
https://shop.bloodharvest.se/product/cadaveric-fumes-echoing-chambers-of-soul-cd/
https://shop.bloodharvest.se/product/cadaveric-fumes-echoing-chambers-of-soul-cassette-both-editions/