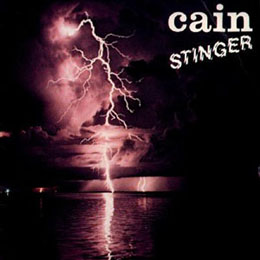 Cain were based in Minnesota and those who already are familiar with Cain's first legendary hard rock album will be pleased with 1977's Stinger as well. Though the slick blend of driving hard-rock, smooth balladry and progressive textures can get on your nerves too. Cain were overlooked by labels and radio stations while similar bands such as the Boston, Montrose, Queen, Kiss, Styx, Kansas, REO Speedwagon, ect… and all enjoyed the fruits of their success.
There are a few songs that I might not enjoy as much as the rest, but I have to admit the great moments manage to outnumber the dull ones here. First track "Freedom" with the catchy lyric-refrain 'fly on the wings of an eagle...move like waves cross the sea… follow your heart it will take you where you want to be….' is brilliant; I almost freaked out when these tasty tones reached my ears.  Mention must not only be made of Jiggs Lee's strong powerhouse vocals but also the sublime solo guitar work playing of Lloyd Forsberg, As a bonus, Vintage, a division of Rockadrome included never-before-released Cain live tracks, recorded around the time of Stinger's original release.
So, although less rockin' than the debut A Pound of Flesh, Stinger still is a fine album that should definitely impress those who enjoy the exploits of mid 1970's era Kansas, Styx, Alice Cooper, Queen, Boston and Journey.