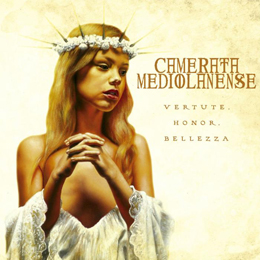 Coming close to their twentieth anniversary, Italian Goth Wavers Camerata Mediolanense return with full length album number four, which is the main part of their Petrarca Project concept, based on the life (and his poetry more specifically) of Francesco Petrarca. This personality lived in the 14th century and is known as poet, writer, humanist and philosopher.
The three former albums were conceived during the nineties, so it took quite a while, but in mean time the band recorded some single material, did some live performances, and concentrated on a couple of side-projects, like Dame Mediolanensi (consisting of the beautiful former and current female members of the band only) or Camerata Sforzesca, which was a live-act, paying tribute to the Sforza-clan.
Vertute, Honor, Bellezza lasts for more than fifty minutes and still brings a mixture of Neo-Classical, Baroque Music, Dark Wave, Gothic Symphony and Neo-Folk. The band worked for five years on this album, which shows in the well-structured and perfectly performed hymns. Male and female vocals, hints of late-medieval Renaissance sounds, industrial and electronic injections, Post-Punk, Opera and Wave, it's all part of the package. Add some tribal elements and a modest dose of experiment, have the whole balanced in between bombast and integrity; drench the whole into an archaic yet very dark-edged atmosphere, and you might have an idea what this strongest and most varying Camerata Mediolanense-album stands for.
Recommended to every open-minded entity who appreciates (Neo) Folk, Gothic and Classical Music, and everything in between!