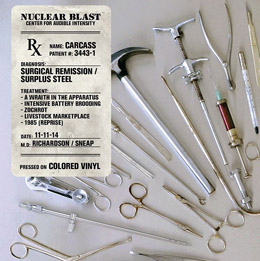 Album Title:
Surgical Remission / Surplus Steel
Release Date:
Friday, November 14, 2014
Surgical Remission / Surplus Steel is some kind of compilation, or as Jeff Walker states 'tying up loose ends'. This EP consists of previously unreleased songs taken from the Surgical Steel-recording sessions (though there have been some occasions to meet this stuff, like the Japanese edition, if I am not mistaken), but considered to be too good not to use. About the Surgical Steel comeback-album, the recording process, as well as a limited (yet evidently extremely professionally written) biography, I'd like to refer to the review undersigned did for that 2013-album. Check the update on December 8th 2013.
Surgical Remission / Surplus Steel consists of five tracks, supposed to perfectly define Carcass' greatness. Supposed to…, let's be clear about this. I was enormously positive in my last year's review about the Surgical Steel album, and the basic approach of this stuff lies within the very same level. But since these tracks didn't make it to the final version of last year's full length, they must be less interesting, you might think. Actually, for the better part that's correct. They are very much within the very same style, with that majestic sound and everything included; it's just that these songs are not that fabulous. …at all. It's much more mainstream, with an easy catchiness that will not, and shall not, convince the die-hard fans. It lacks of balls, it reeks of cheap nonsense. And with Livestock Marketplace I am even coming close to total irritation and boredom. They must be kidding…