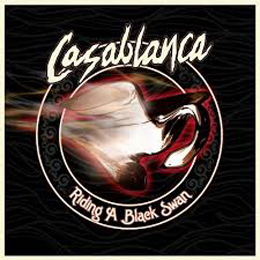 For a very brief moment there, I though the Amadora based Portuguese Heavy Metal band by this name might've reformed. Having existed between 1988 and 2006, that band had left us two demos (1988's Demo '88 and Casablanca), a single (1993's Do Que Passou, Nada Ficou?) and 4 full-length albums (1990's Tanto, 1996's Sands Of Wasted Time, 1999's Another Day, and 2002's Once Upon A Wasted Time), of which I'd heard the latter thanks to a friend of mine...a listening session which had not averted me from the band at all, so it was with some anticipation that I started a listening session of the download promo copy of this new album my editor-in-chief had put into my hands for review. Which immediately shattered my expectations, but then turned my original disappointment into excitement, as I listened through the album.
You see, thís Casablanca is a Stockholm based Swedish 'Nu-Classic Rock' styled outfit which was formed in mid-2009 by the not-so-unknown musicians Anders Ljung (vocals; man behind the critically acclaimed Space Age Baby Jane), Erik Stenamo (guitarist of Melody Club, and one of the instigators of the band), Ryan Roxie (was lead guitarist for Alice Cooper for about a decade, moved from the US to Sweden, and is also active with his own Roxie 77), Mats Rubarth (former bassist of AIK, and along with the singer the main composer of the Casablanca's music) and Josephine Forsman (drummer, also active with Sahara Hotspots). Originally keeping things under wrap (even if they joined facebook in September that same year), the band worked in secrecy for about two years, recording songs with people such as Kleerup (who co-wrote some of the songs) as well as producer Chris Laney, and came out with their debut album Apocalyptic Youth in April 2012. An album which I believe we at Concrete Web never encountered (I could be wrong there – dó check out our "Archive" section and prove me wrong if you can!), in spite of the fact that it entered the Swedish Hard Rock charts at top position. The album was also hailed by UK's Classic Rock magazine, whom nominated the album as one of 2012's best new Rock acts. The release was followed up and promoted by national tours with fellow Swedish Hard Rock act Crash Diet and Bullet, and Casablanca even opened up for Kiss when they came to play Sweden's Malmo Stadium.
The band is now back with a sophomore release which has caused me some slow-down in my usual writing process, as I kept delaying having to review the album because I wanted to give it some more listening sessions! I mean, that's how góód this album is, you see!? Because what Casablanca delivers is an anthemic type of Hard Rock with a very high sing-along factor thanks to harmonic vocal backings and great lead guitar passages on top of already catchy tunes! So okay, in my view the band made a mistake starting the album with a tune which stole the basic melody from Ravel's "Bolero", and I would suggest that the songs might've been better placed elsewhere on the album, but in hindsight you have to commend the band with what they made of that track. Personally, I would've opened the album with either "It's Alright" (darn classy harmonic backing vocals intro there) or "Hail The Liberation" (the album's first single; has already been played extensively on Swedish radio, and instigated an even higher international interest in the band; the track doés have a very interesting opening passage which would have suited an album's opening very well indeed!), those being some of my favourite songs, although all 10 tracks on the album are true future classics.
Regretfully, neither the band's homepage (www.) casablancaband.com (which re-directs to (www.) facebook.com/casablanca) or their page on Soundcloud (http://) soundcloud.com/casablanca displays music from the current album (the 3 songs posted there being culled from the band's debut), so I guess you'll have to make due with what the album's page on iTunes or Amazon might offer you in 30-second samples for a listening session! Either that, or try and go check out the album at your local record store! Although my rating is not consistent with a year-list nomination, I guess the album might still get there by the end of the year!