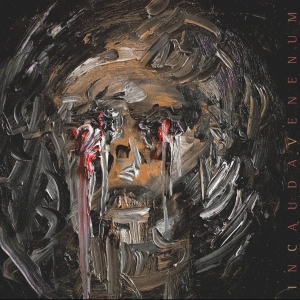 Half a year ago, Blandine of Les Acteurs De L'Ombre Productions let me know that they were about to start a new label, Emanations, in order to release qualitative stuff (evidently) that does not necessarily / totally fits to Les Acteurs De L'Ombre's roster. In mean time, this sub-label released a handful of tapes, and two of these recordings have been put on compact disc too in mean time. Alpha Omega is such one, available on both cassette and CD, as well as the digital way. FYI: the other one, El Viaje Definitivo by Profundae Libitines, will be reviewed by undersigned in a very near future, but that's quite logic, isn't it…
Alpha Omega is the debut by In Cauda Venenum, a pretty young band (a duo nowadays, consisting of founding member and multi-instrumentalist / vocalist Romain 'Ictus' Lupino and drummer Nicolas 'N.K.L.S.' Deléchenault) from the centre of France, though it took five years to have this album finished and released. In Cauda Venenum did everything themselves, i.e. recording, production, mix and mastering, even the design and graphics (Ictus) and logo (N.K.L.S.).
This album consists of two lengthy tracks, being Alpha (21:01 minutes) and, indeed, Omega (21:06 minutes). And after some listens you will find out that 1) this album is quite cohesive and 2) these two tracks are still not just a cheap copy of each other. Yet the main atmosphere remains the same, and believe me: this one is quite dreary, intensifying and asphyxiating.
Both Alpha and Omega sort of mix elements from funereal Doom Darkness, Post-laden Black-Gaze stuff (yet without the long-stretched shoegazing guitar futilities) and epic Black Metal in general. Each piece is divided into several chapters, including integer an acoustic intermezzi that sort of connect the different excerpts. But believe me if I say that there is, for sure, a prominent and profound cohesion in between all these distinctive moments. It's like a variation on diverse track-excerpts that easily make it to one or another coherent totality. Though, the second piece is much more varied, i.e. it does consists of quite a lot of differing chapters in order to get completed. No worries, for it surely floats on, very easily, like an organic existence.
Still the main focus, throughout the whole experience, is one of a mostly blackened, grim, oppressive and even depressive / depressing kind. …despite the few aggressive outbursts… And then, just add that raw, straight-forward sound quality, that production that simply strengthens the nastiness and grooviness of the whole concept… Indeed, there is about nothing to dislike, is it? And no, I will not focus on any negative aspect (why should I anyway)… So, in general both tracks are quite comparable, with the first one being little more atmospheric and the second one rather dwelling in an epic shape, yet in both cases focusing on integrity, perseverance and obscurity.