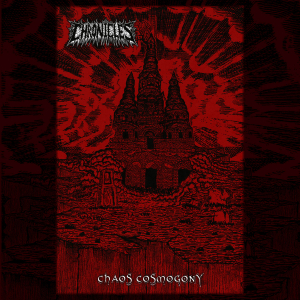 Release Date:
Thursday, January 20, 2022
I have to admit that I do not know that many bands or projects from Bangladesh, but there are some interesting combos out there for sure. Amongst them are ChronicleS, known from their demonstrational efforts WarMachine and Astōdān. Especially that second one did put their name on the international market.
But it isn't over yet. With Chaos Cosmogony, these guys will reach a bigger audience for sure. Okay, it has to do as well with the assistance of their current label, Helldprod Records. …nothing but respect for this Underground-oriented label from Portuguese soil, by the way. Anyway, this third 'official' release gets released on tape in an edition of 80 copies with a three-folded inlay (sober yet cool artwork in black-and-red included), as well as digitally (links: see below). This demo consists of four tracks, as well as an intro and outro, clocking about sixteen minutes. And it is, and I quote, 'another deadly explosion in your face. This time six nails are carved in your black hole coffin as the starless night embrace your anguished funeral. Doesn't this sound sweet?
Indeed, for those craving for flesh blood, Chaos Cosmonogy will work satisfying and liberating. As from the untitled intro, with samples of distorted voices and metallic noises, you can expect an intolerant piece of nastiness and disgust. And that's what you'll get. ChronicleS perform quite primal and uncompromising Death Metal with an outspoken Old School vibe. This material is rough-edged yet still melodious, based on traditional melodies and a devastating rhythm section. With 'melodies' I am not referring to a collection of melodic hymns in a modernistic or technically-progressive vein. As said, the roots pay tribute to the universal old-styled elegance. These melodic string-leads are heavily strengthened by a powerful rhythm section, including and nihilistic yet strongly supportive rhythm strings (the importance of the bass-lines, for example, reaches its peak in a piece like Retributional Pits Of Torment, which also shows the remarkable yet subtle use of thrashing solo-work) and truly remarkable drum salvos. That percussion-session adds a value of intensity and skilled tradition at the same time, for monstrous and barbaric eruptions smoothly and organically interchange with semi-spherical passages. And then I did not mention the truly dingy, squalid throat of vocalist Kafi yet: puking out his belly, vomiting rotted waste and toxic remnants.
I will keep it brief and concise this time. Forget about avant-garde experimentation or futuristic technics; just expect the bare essence of what the scene was all about in the earliest years. Fast parts get brutally interrupted by blasting outbursts, as well as morbidly doomed passages. That's exactly the spirit! That primal core goes as well for the extremely low-profiled sound, even-though the mix isn't inferior at all. But that production is of purest Eighties-oriented acrimony. Imagine that primordial excellence in combination with persuasion and dedication, and pay honor to these Eastern Rites…
https://helldprod.bandcamp.com/album/chronicles-chaos-cosmogony
https://chronicles4.bandcamp.com/
https://helldprod.com/shop/index.php?id_product=1506&rewrite=chronicles-bgd-chaos-cosmogony-tape&controller=product