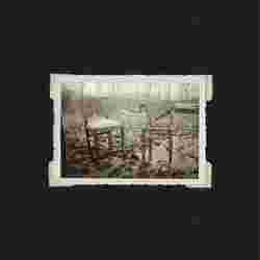 This 7"EP-split consists of two songs, both of them the first official outlet from the guys behind these projects as solo-act.
CHVE is the abbreviation of Colin H. Van Eeckhout, the guy behind bands and projects like Sembler Deah, AmenRa, Kingdom or Blind To Faith; he did also co-operate with Syndrome, a solo-project of Colin's colleague in many projects, Mathieu Vandekerckhove, on the newest Syndrome-recording; see elsewhere within this CSS-special. He contributes with She Never Left, an acoustic Folk / Neo-Folk song, rather minimalistic in approach, and based on a minimal use of acoustic guitars and clean, sorrowful vocals. It surely is another side of Colin's multi-talented identity.
Nate Hall is the frontman behind USX and former US Christmas, with his first solo-album (A Great River) out now through Neurot Recordings. The song he contributes with on this split, Dark Star, is taken from that album. It's a typical song from A Great River, bringing an Americana-oriented Folk-approach in the vein of, well, let's mention the likes of Dylan, Cash and Young, yet with an own identity for sure. I heard someone referring to Springsteen, and even with this comparison I cannot completely disagree.
[no score for this split being to 'limited'; check out the Nate Hall full length and, if there are concrete plans, the upcoming CHVE-album]