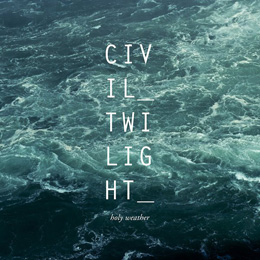 Nay...actually this is not a new album by this interesting Nashville based Pop Rock act, as it was already released (but only in the US) on March 26, 2012. However, as we'd never have heard of the band before...let's start with some history lesson, shall we?
Civil Twilight (CT) actually originates from Cape Town, South Africa where brothers Andrew (guitar) and Steven McKellar (lead vocals & bass) along with Richard Wouters (drums) started out as a trio that drew parallels with The Police, very early U2, Jeff Buckley, and Radiohead (according to the band's page at Wikipedia, from whence more info in this article was culled). Born into a musical family, the boys grew up listening to their father's Jazz records and their classically trained mother's piano play. In late 1996 Andrew started a teenage band with help from his high school friend Richard, whom was only just getting into music. Around the same time Andrew found out that his younger brother actually had a killer-good singing voice and could write songs, so the three budding musicians eventually banded together, with Steven agreeing to learn how to play the bass. Several years of rehearsal followed, before the band did its inaugural shows in the local club scene, where they grew to be a respected act.
In August 2005, with everyone graduated, the trio moved to Los Angeles and soon after signed a deal with indie label One October, who co-produced the band's debut album Human. Released in 2007, the album got an unexpected boost of promotion when several songs got featured in some prime-time television shows. With the band's profile mounting, the guys then moved to Nashville, where they recorded and self-released their self-titled album in 2008. In 2009, they signed to their current label Wind Up Records, who re-issued the self-titled album on July 21 (the release having been delayed after the original release date had been set to March 31). the band turned out to be a favourite of the television industry, who again used songs off the album in some of their prime-time series, greatly benefiting "word" on the band. The same, by the way, happened with songs of the album currently at hand in this review. In total, 8 singles were featured in over 20 series, and has been a welcome guest at the successful talk-shows hosted by Jimmy Kimmel and David Letterman. To boost morale even more, bits and pieces of their music have also been used in commercials.
With their album out in March 2012, the trio became a quartet after recruiting Kevin Dailey for keyboard and backing vocal duties, and then went out on their first headlining US tour (which lasted through a big part of that year), the band also toured with Smashing Pumpkins, Anberlin, Jimmy Eat World, Florence + The Machine, Neon Trees, Silversun Pickups. Evidently, the band's performed at several nice-sized festivals, but I'm sure that to them personally, headlining the Cape Town festival Rockin' the Daisies must've been a real highlight.
Talking music now, I have to say that I had to go through the complete album to get the full scope of rage which this band covers. From bass driven anthemic tunes, to soft-calm ballads with piano overtones...it takes a second listen, an opportunity to submerse oneself into the undercurrents of the music...to understand that there's more to this band than just a nice falsetto (well...nice, if you're into that kind of singing style, of course). There's a possibility to listen to samples from both official albums (thanks to Amazon & iTunes) in the "Music" section of the band's own website (www.) civiltwilightband.com (the story there differs slightly from the one above, as the guys used some poetic liberties)...but you can actually view full-length tracks in the "Video" section as well. If what you've read so far has known to attract your attention about this band, I suggest that you surf on over there a.s.a.p....like right nów!!!