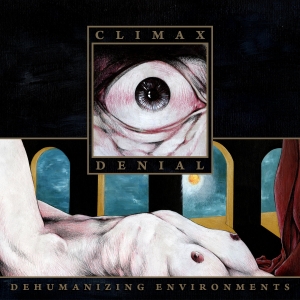 Album Title:
Dehumanizing Environments
Release Date:
Wednesday, September 16, 2015
Despite having some earlier releases on different labels, I hadn't heard of Milwaukee-based project Climax Denial before. Recently they signed to Malignant Records in order to release the Dehumanizing Environments full length, which was mastered by Steel Hook's mastermind John Stillings (think Bathory Legion, FRKSE, Abjection Ritual, Encounters, Analfabetism, Vermiin etc.), and including (quite original and explicit, yet decent) artwork by André Coelho. The result is a six-paged digi-pack, limited to 500 copies, having a total running time of about forty seven minutes.
Dehumanizing Environments is the second full album, if I am not mistaken, consisting of four compositions. The album opens with The Womb As Vestibule, immediately defining this project's perverted, sadistic, malignant and ill-minded raison d'être. The experience starts with machinal ambienscapes, soon joined by ominous and hostile bass-like drones. It's a repetitive work, yet therefor somehow mesmerizing and even mystic in a most misanthropic sense. Towards the very end, some industrialised majesty mixed with subtle elements of Noise turn towards dreamlike atmospheres – but don't forget that nightmares are dreams too… Fingering Dead Ashes As Evidence appears to be more introspective and integer at first, with that hypnotic flair, like a black-and-white painting of a desolate post-nuclear landscape. But the intriguing thing is the multi-layered totality, revealing bleaker dimensions of the sick human mind, including the pertinently present level of discomfort with a quite recognizable vision on the pleasure of that very same discomfort. Especially the last excerpt of this 'song' is quite confronting. Quite imaginative but true is the (un)natural evolution in Environments For Paranoid Necrotic Masturbation, starting quite nihilistic, like a claustrophobic Drone-excerpt, but as soon as those weird, haunting voices join in, aspects of ritual and mesmerizing Ambient take over. However, I was expecting one or another noisy outburst, for this creation does built up towards a certain tension, but suddenly the whole seems to fade away into oblivion. Quite exciting for sure… Morning Following Dried Blood, finally, might be the most haunting piece of all. Injected by elements of noisy feedback, droning spheres and ritual concepts, this last composition defines unhappiness, masochism, destruction and self-destruction, though seen from a very conscious level…