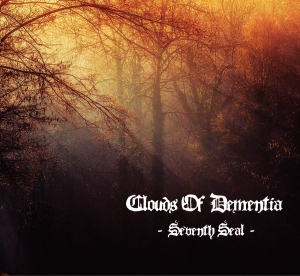 Release Date:
Thursday, December 8, 2016
Almost three years ago, five musicians from the region of Nantes (France) joined forces under the Clouds Of Dementia banner. Their aim: paying tribute to the greatness of the Heavy / Doom Metal scene of Old. They composed a couple of tracks, which the band performed live on stage, often alongside known acts such as Svart Crown, The Bottle Doom Lazy Band or Ataraxie. Eventually, the quintet entered the studio to record some of their songs, and a five-tracker was mixed at the end at the Vacarama Studio during Summer 2016. Working title: Seventh Seal. Duration: thirty-five minutes.
Please be welcomed! Welcome… Ha, Welcome is actually the title of the opening track, and at the same time the first word sung, and it does make me feel that I am truly welcome… Welcome to the past, welcome to the origins of Metal!
No, seriously (for a while, not too long, of course), as said this stuff pays homage to the roots of the scene. Clouds Of Dementia play very slow material, quite heavy in performance, and integrating all elements that characterise the universal and timeless Traditional Doom scene. You have the ultimately heavy riffing, for example. Ultra-pounding guitar and bass riffs act like a bulldozer, slowly pushing forward, unstoppable and merciless. It comes with a fine equilibrium in between the rhythmic side of the whole, and the melodies at the other hand. Despite the fullness of the whole rhythm section, those melodic structures never fade away. …on the contrary. There's a certain repetition within those melodies, but they remain, they stick, they will be remembered. Of course this gets coloured by a couple of fine-tuned solos (thrashing the pus out of your skull!) or majestic leads, being epic occasionally (cf. All My Prayers). Quite interesting too is the voice of Jujux, sometimes reminding me of Scott Weinrich, with that little sore timbre. And since I am quite obsessed (hey, is it a coincidence?) by Saint Vitus, especially their Eighties era … But actually other details just fit too. It's more than 'details', to be honest. What about the thunderous drums, for instance, which are top-notch in their presence?
I like the fact that the band focuses on a certain diversification. The tracks aren't that lengthy, yet not short either, but they keep on demanding your attention whole of the time. There is no room for boredom (which is a sickness that happens too often when listening to would-be Trad-Doom, I'm afraid). All members are experienced and professional, and in combination with an ability to write fine material, this ends up in a great release. Personally, I used to be 'fan' of this genre during the Eighties and earlier Nineties, but as from half of the Nineties, I sort of lost my interest because of so many pulp and bullshit going on (with some exceptions, of course). So I cannot but admit a 'second opinion'. Seriously (damn, for a second time…), Clouds Of Dementia do a fantastic thing with Seventh Seal, for bringing back that feeling of 'true' Doom like it used to be. Fans of everything in the vein of Candlemass, Saint Vitus, Black Sabbath, Trouble, you know, need to pay attention!
Heavily supported and promoted by Solstice Promotion (FYI: they do promote the fabulous label Les Acteurs De L'Ombre too nowadays – thanks for the mutual support, Noémy!). And hey, 'solstice' – does it ring a bell (a bell of Doom?) – there you have it; once again this cannot be a coincidence…