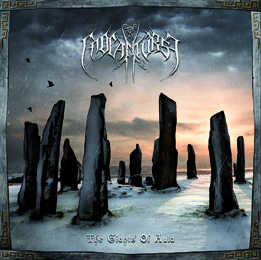 Release Date:
Monday, February 25, 2013
Scottish combo Cnoc An Tursa were able to record The Giant Of Auld at the legendary Foel Studio with highly acclaimed producer Chris Fielding at the helm (think: Ageless Oblivion, Moss, Winterfylleth, Primordial, The Wounded Kings etc.). Result: a killer production, of course!
This ten-tracker brings modern-meet-traditional and energetic, melodic Pagan / Folk / Black / Heavy / Epic / Celtic Metal with a traditional approach + modernised sound (see former phrase), and including ancient Scottish poetry as lyrical source of inspiration. It's catchy, this album's musical grotesquery and bombast, balancing in between different levels of heaviness, melody, rhythm and atmosphere, yet with one mutual characterisation: Epic!