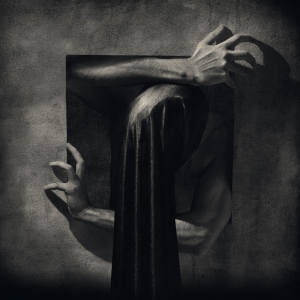 Release Date:
Sunday, December 13, 2015
This review deals not with a recording by German Death combo Common Grave (are you guys still active anyway?), but with the Italian Black Metal formation. They were formed at the end of last century, and after some demonstrational and promotional material, they did record and release their debut Il Male Di Vivire in 2008 via Eerie Art Records. Then they faded away in silence… Until now, for Common Grave return with a new full length album, Dust Of My Existence, which sees the unlight via Ukrainian label Vacula Productions.
The quintet (vocalist XXVII, drummer Blackthorn, guitar players MZ and Suffer, and bassist Kaalt) did record these new compositions at Spazio 55 with Andrea Condotta, and Dust Of My Existence eventually lasts for forty minutes. The six pieces bring melodic and quite technical Black Metal with a progressive twist. The technical issues are quite bright, for even many drum passages are performed with a craftsmanship that exceeds the 'normal' performance. Also the differentiation, permanently present, belongs to the technical strength of this band. The first piece, for example, shows up with those remarkable semi-acoustic interludes, hypnotic tremolo leads and fine-tuned melodic solos, a funereally-doomy sphere and unusually deep screams and grunts. And still one cannot call this kind of technical high-skills as 'modernism' in any aspect. …nor is it old fashioned either. The contrasts, like the tempo, the heavier excerpts versus the semi-acoustic passages, and so on, are ingeniously written / composed and, eventually, executed.
All this gets strengthened by a great production. It sounds raw, maybe even buzzing when referring to the bass lines and rhythm guitars, but all elements once again are like a puzzle coming to pieces. And it does not happen that much, but in this album's case the mix lacks of failures within both the slower as well as the fast-paced parts. Those faster parts, by the way, might have a certain touch of Post-Black extremism once in a while.
Because of the dense, melancholic and, believe it or not, masochistic approach, the result is disturbing and uncomfortable. The contrasts too, although being quite coherent as result, do not make this album some easy-listening recording. Therefor I am pretty sure that there is a limited audience only that might truly appreciate the intelligence that lies beneath this result. For what it's worth: I belong to that elite. No, seriously, Dust Of My Existence has many layers, many levels, many dimensions, many directions. But with some persuasion you will easily find the coherence, the structural direction to follow, and then I can recommend just one thing: follow the path, let this material carry you away beyond the shores of human's pathetic existence…