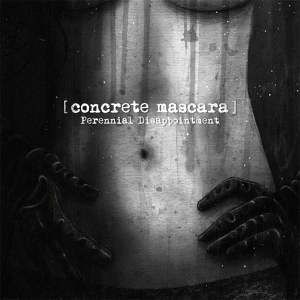 American act Concrete Mascara floats around for five years or so, yet despite their 'limited' number of years of existence, they brutally reached the top of the international Power Electronics community. Concrete Mascara's debut Blossoms Of Shame (Corrosive Arts Records, 2014) got highly acclaimed, and now the project returns with the sophomore album Perennial Disappointment via mighty Malignant Records. The album lasts for forty + minutes, and comes in an edition of 500 copies, a 'normal' jewel box with a six-page booklet.
The reason for their 'popularity' (H*ll yeah, what's in a name…) gets strengthened by means of this second full length. What the trio brings under the Perennial Disappointment banner is a monumental hit-in-the-face-of-your-god. It starts as from the short opener Flesh Of This World: industrialised sounds and eerie voices (like Baphomet himself is reading from the Black Bible) mark the start of an uncomfortable travel through painful dimensions. But that isn't but a warming-up. The real stuff starts with Area Trinity, mingling piercing noises and sulphur-spitting screams unto a symbiosis of the most distorted kind. Pulsating frequencies, repetitive industrial structures, ear-torturing noise and venomous notes are carefully yet destructively mixed up in order to create an unbearable wall of sound. This soundtrack of horror, propaganda for the human elimination, goes even further with the next 'track' (once again: what's in a name), starting off with a blasting electronic beat (these beats do carry the whole structure of this wonderful piece), and sadistically joined by mechanic repetition, turning out to be both beautiful and ugly in all senses. The unhuman throat adds a dimension of physical and mental torture, and still a composition like this one remains attractive in one way or another. And so does each single piece on this album come up with something unique, something remarkable, something that characterises and confirms the craftsmanship of this project. Take Delusion Of Sacrifice, for example, bringing a sphere of war and destruction through those artillery-alike frequencies and sounds. Here too, once again, those vocals strengthen that barbarian attitude. Mouth Of Flies, Tongue Of Maggots, then again, is much denser, much more claustrophobic and suffocative, with a quasi-Ambient-alike melody, like a post-nuclear soundscape…
…and this goes on, permanently switching in between bleak moods, structures, atmospheres and constructions. I do not exaggerate if I say that Concrete Mascara are one of the most prominent and notorious Noise / Power Electronics projects at this very moment. Malignant Records once again prove to sign the better acts and this interaction truly 'shines'! I even dare to conclude, though it's purely personal (but I am the reviewer in charge, so I can permit to mention this), that Perennial Disappointment might be (one of) the best album in its specific (sub) genre in years.