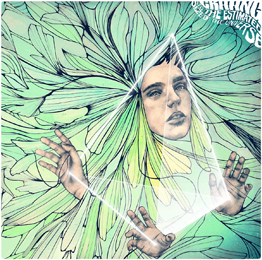 Album Title:
To The Estimated Size Of The Universe
Craang are a Greek trio (guitarist / vocalist Manos, bass player Mike and drummer Nick) that release their debut themselves on CD. In early 2015 the material will be printed on vinyl too via the German label Pink Tank, which this band recently signed to. The result is a four-tracker, which has a total running time of more than forty minutes. Indeed, To The Estimated Size Of The Universe consists of very lengthy songs that last in between eight and fifteen minutes. The whole is mainly based on the guitar melodies, with vocals appearing only very sporadically, but it does not bother in this band's case.
Based on the album's title and, especially, the cover drawing and band-logo / letter-type used, one can guess which direction to go with this Greek three-piece. And indeed, the result is spacy and psychedelic. But unlike many colleagues, Craang go further than being another Pentagram-clone. The guitar sound, for example, is much heavier, and I do mean: much, much heavier, if only because of the production. Also the Saint Vitus-inspired guitar noise-distortion is more extreme. Besides, these guys' material is enormously varying. It's not just Traditional Doom or Psychedelic Rock they do create. The whole is injected with elements from Progressive Groove, funkish weirdness à la Ozric Tentacles or Family, and fuzzy Stoner melodies. This kind of droning Rock pays tribute to the glorious times when certain brain-expanding products weren't that marginalised yet, but the result is packaged in a present-day wrap when it comes to sound (massive!) and execution (skilled and crafted).
This stuff is irresistible for those who float on the likes of Elder, Blue Cheer, Monkey3 or Colour Haze, and I would even add the likes of Sleep, Hawkwind and Pink Floyd.