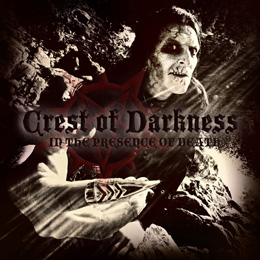 Release Date:
Monday, February 25, 2013
This is one of those bands with its lows and its heights. I am glad that the lows were situated in the band's past, while the positive evolution, once initiated at the beginning of this century, did not shrink away.
It took quite a while since the band's latest release (Give Us The Power To Do Your Evil, 2007), but it was worth waiting for, because Ingar Amlien and his gang return with another fist-in-the-face-of-your-god release. Ten hymns of merciless hatred and evil aggression, that's what In The Presence Of Death presents us. It's fast, it's nasty, yet at the same time rather catchy as well; cf. the former (latest) releases. There's a nice equilibrium in tempo (even though mainly speed-up) and melody (with a satisfying balance in between brutality and atmosphere). The Gothic influences from the earlier years were gone since quite a long time, but in comparison to the former full-length, this one is less Thrash-oriented and little more rhythmic. And from time to time, especially within the fastest parts, the Swedish scene comes to mind (like the mostly old styled brain-thrasher "The Priest From Hell", amongst others).