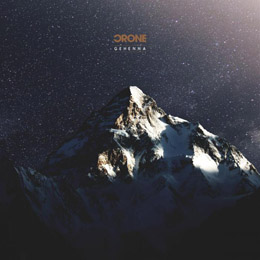 Crone, and I'm not talking about the Australian band with Mandy Andresen and Yonn McLaughlin, nor the Californian Pagan / Black outfit, are a project with two experienced musicians, i.e. sG of Secrets Of The Moon-fame and Embedded's Markus Renzenbrink. The duo wrote and recorded four tracks, which are now compiled as Gehenna, and which features guest vocals of ex-Swans / Skin member Jarboe (on Dead Man). It will be released under the professional joint venture in between Prophecy Records and Ván Records.
Despite the 'heavy' background of both members (Secrets Of The Moon play obscure Black Metal, Embedded perform melodic Death Metal), Crone has not much to do with Extreme Metal. What the duo brings under the Crone-moniker is a desolate yet heavy form of Rock. It can be linked to 'Metal' in general, for having several forceful guitar parts throughout each single song, yet there are lots of integer, soberly performed pieces as well. At least there is quite some variation I each of the four tracks, going for speed, heaviness, structure and instrumental / vocal approach. The main vocals are of a rather mourning, sorrowful kind – unfortunately not always that steadily, but that is not such a big deal, I think. There is quite some emotionality in this material, I think, without turning the general mood into mainstream or tiresome proportions.
What about this: Pink Floyd meet Marillion meet Nocte Obducta meet Fields Of The Nephilim meet Antimatter meet Transmission0 meet Bethlehem meet Katatonia… Can you deal with this?