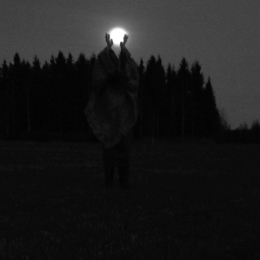 Crown Of Asteria are a solo-outfit by Meghan Wood, who formed this project in 2011. There seem to be some releases before, like a first full length in 2013 (called North), as well as a split with another excellent solo-project, Twilight Fauna, and after listening to this album a couple of times, I will certainly search for etc. etc. etc.
In the very beginning Crown Of Asteria made use of vocals, but soon the musical experience became fully instrumental. That's not that unusual anymore, for there are more bands or projects within the Extreme Metal scene that do not use vocals; think about very impressive acts like, for example, Cerna, Year Of No Light, Sardonis, Long Distance Calling, Tempel, Spektr or While Sad Spirits Around Me Stroll etc. In Crown Of Asteria's case too this result isn't but positive, I mean that the absence of vocals is not a 'problem'.
This EP, Cycles, was initially released digitally, followed by a tape-version, though very limited. It consists of two tracks, Cassiopeia Queen Above The Skyline (twenty five minutes of length) and the title track (which lasts for five minutes), making it a thirty minutes musical journey.
Cassiopeia … opens somewhat 'natural', i.e. the heathen-ambient way, with the introduction of acoustics soon after. After five minutes or so, the electronic guitars and bass join in, transmorphing the initially rather folksy approach into a grim and strongly Nordic-influenced entity of both epic and melancholy. And despite the long duration and the instrumental approach, this hymn has nothing that 'insults' your attention, for it varies all the time, yet without maintaining a very coherent core. No matter if it's an acoustic or an electric excerpt; this song is a cinematic masterpiece, melting Nordic Black metal, Post-Rock, tribal Folk and natural Ambient into one majestic composition.
More or less the same goes for the shorter title track. It's mystic, integer, introvert, meditative and emotional, embracing the beauty of Nature rather than any post-nuclear destruction (another side of the Black-glory). This song is completely acoustic, showing the capacities of Milady Wood.
Recommended if you like, let's say, Agalloch, Gris, October Falls, Ulver, Falls Of Rauros, Alcest or Falloch.