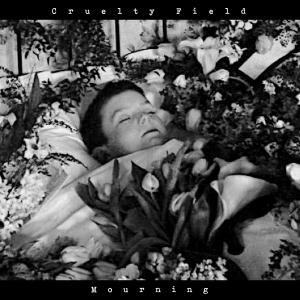 Release Date:
Thursday, February 13, 2020
Hailing from Norway, Therapy Productions is a new label for the mentally disturbed, so it didn't take that long for me to get in touch. Their aim: Pushing the limits of sound / redefining what genres are / exploring new territories / not trying to conform / showing the world something new / crossing boundaries / making art. Please enter the world of sonic deformation…
Actually, I accidently came across this label, which at that time did release three recordings (a fourth one has been released in the meantime). And all three of them - well, the label's introduction, as quoted in the former paragraph, totally fits. The first release is one by Lvstend, a project by this label's owner Gabriel, the second one is a Pastel Debris recording, and the third is the one this review will deal with. A review on the releases of Lvstend and Pastel Debris, as well as the newest one, by Japanese act Melankolium, will follow soon, probably.
So, Cruelty Fields… It is a one-man project by some King Lord, hailing from Sarajevo, Bosnia and Herzegovina (ex-Yugoslavian Republic), dedicated to pushing the limits of sound. Well, that surely fits to the label's roster, isn't it. Under this moniker, there were a hand full of (digital) releases before, totally uninspired by any existing form of art, genre-undefinable; just the foreign and abstract expression of reality and image […]. Individualization, codification and purity put into sonic sequences to create unity with itself. It all sounds curative, therapeutic, and actually it is.
The story for this release started when Gabriel asked Cruelty Field to sort of compile some material, and after some discussion (no physical harm was done, or at least not any incurable harm was caused physically – I will not make a statement          about the mental state of war, haha), both the label and the artist decided to have this album, called Mourning. It got released as a personal tribute in honor of someone close to King Lord; no further comment on the subject, but the emotionality and close relationship of the artist and the person who passed away in sad circumstances gets expressed so intensively and deeply through this, eh, let's call it 'Music' for now. It's emotional, personal – check the cover, the title – indeed, happiness is futile…
Mourning is a compilation with tracks especially taken from the former Cruelty Field albums Automutilation and Gather Heaven's Pieces. This comp. consists of ten 'songs' (what's in a name), clocking about fifty-four minutes. It's a digital-only release, yet with remarkable (and indeed quite explicit-personal) artwork. It goes extremely well with the concept of loss, grief, helplessness, emptiness, guilt and despair. In a conceptual way, it is a work of deep mourning…
Well, from aural point of view, Cruelty Field is a highly remarkable entity, for its uniqueness and own-faced approach. Okay, the mixture of elements from Black Metal, Harsh Noise, Power Electronics, Dark Ambient and the likes are not completely new, but somehow this project succeeds to experiment and execute with an own twist.
More specific, Cruelty Field start from a melodious basement. The core is built around some captivating, even transcendental melodies. But all this gets brutally raped by total distortion and blackened malignancy. You know, it is like a melodic thing, deconstructed in an apocalyptic manner, eventually rebuild with wrath, torturous sadism and (self) destructive anger. Imagine a harmonious concept, being skinned remorselessly, and reconstructed with an almost perverted resentment.
And that is exactly how to describe this expression of tortured Aural Art. Most 'songs' (yeah, it's fun to fool around with such definition) are based on, as somehow mentioned, a serene (or not) melody, yet ravaged sordidly with ultimately grim, sulfuric voices (sometimes spellbinding or semi-poetically spoken), devastating noises and dismembered sound whatsoever. Just synths and guitars, voices, amplifier and samples, canalized into creations that balance in between music(k) and uproar.
And that brings me easily to a great point of interest: the variation. Even though the basic structures are alike, almost each single composition differs (though still maintaining a prominent coherence!). Sometimes, the whole is quite droning, then again rather ambient or noisy; extraversion versus introspection; rage against dismay; never-accepting acquiescence as counterbalance to inevitable resignation. Mourning is a laborious listening experience for sure – even after almost 777 listens I still get overwhelmed by this sonic usurper – but each time again it does disclose elements that were there before, yet being unnoticed consciously. It's a permanent derision of the mind, and at the same time a sanative meditation, pushing limits, trespassing borders, entering untrodden dimensions of the mind – and of the sonic spectrum. Cinematic noises, a story of loss, grief and agony, as well as iniquity, rage, delirium, impotence for irreversible incidents, Mourning is a deep-going yet captivating soundtrack for negativity and mental suffering.
https://crueltyfield.bandcamp.com/
https://therapyproductions.bandcamp.com/album/mourning