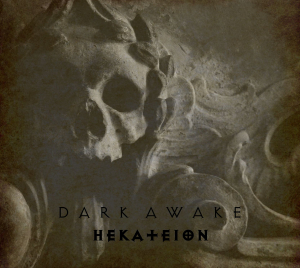 Hecate or Hekate was a goddess originating from the Anatolian region, also divinized by the ancient Greeks. She was a goddess of magic, witchcraft, natural medicine knowledge, birth, spiritualism, you know, an important entity for sorcery, necromancy, health and death. This mythological figure has been a huge source of inspiration for several religious and artistic trends, and she appears a lot within the darker currents of the musical spectrum too. It would be a silly thing to list up some of the bands and projects within 'our' musical scene(s) that were / are influenced by the idolatry of Hecate, so I won't.
This review deals with a conceptual recording, dedicated to this powerful ancient entity, divided into four chapters. Hekateion is the title, also the name for an old yet magisterial temple (evidently dedicated to Hecate) in the South-West of Turkey, or a denomination for an ancient pillar (mainly used in temple buildings) with Hekate's figure as effigy (FYI). It's composed (the album, not that temple) by Dark Awake, a project by Shelmerdine, who did almost everything himself: song-writing, recording, mix and mastering (at his Fleurs Du Mal Studio), except for the female voices, evidently (which got performed by Sekte). It got released in Autumn 2020 via the mighty Aesthetic Death roster on compact disc (digipack), with sober yet incredibly stunning visual artwork and a ritual invocation of milady Hekate herself.
Anyway, I am not going any deeper this time on the history and discography of this great Greek project (maybe I will soon, when writing down my thoughts on Dark Awake's recent split with Kleistophobia) or the magnificent label run by the great guy Stu. I will go onto the aural content immediately. As said, Hekateion consists of four very lengthy epics, having a total running time of almost fifty minutes. This four-tracker opens with the title track, which lasts for more than twenty-three minutes. Hekateion starts minimalistic, with distant synth lines and founds sounds / field recordings, resulting in somehow a weird, confusing experience. It has something astral, something unphysical, untouchable, which surely strengthens the spiritual and esoteric conceptual approach. At about three minutes, this experimental introduction evolves into a deeper-going sonic darkness, when sound manipulations are canalised into rather horrifying soundscapes. Whale-like waves of obscure noises do open mental portals towards the Inner Eye, and when hidden voices seem to join (as from seven minutes), the mystery of dark magic and ceremonial rites gets revealed. These voices get an evocative nature (as from nine minutes), veiling this aural journey in some confusing and disturbing, yet mostly intriguing nebula. It's nice to hear a very diversified scala on voices (as said, performed by a damsel called Sekte), with harsher and softer timbres, whispers, invocative narration and semi-chanting vocals. At the same time, the sonic approach continues, permanently evolving, like arising and fading away. It's a mixture of ambiences, rather than 'melodies', including a profoundly soft-industrialised character. At about seventeen minutes, things turn more ethereal, with wretched synth lines and somewhat beseeching vocals. Yet it does not result in boredom at all, for suddenly tribal percussion drums (and other sources of percussion) enter. It leads to a finale with shamanistic instrumentation, creating a deeply sacral atmosphere. The ritual is about to reach its peak; the goddess will awake…
Then comes Erebenne Arkuia Nekui, which is surprisingly short of duration: 02:24. Yet despite its short duration, the overpowering intensity is memorable. Erebenne Arkuia Nekui is a bombastic piece, heavy, almost asphyxiating, with low-tuned bass-drones, martial percussion-work and intoxicating voices. Short yet efficient it is!
Triformis Dadouchos Soteira (eight minutes of length) is a piece of intense, almost apocalyptic Industrial, build around harsh loops, dark-droning soundwaves, and additional sounds and percussion. Despite a certain lack of variation, there is a lot to experience withing this powerful composition. The atmosphere is horrific, even claustrophobic, and therefor so attractive.
The last piece is called Damnomeneia, clocking almost sixteen minutes. It might be the most varying elegy on the Hekateion-album. It starts somewhat Aghast-like, with a comparable dark-ritualistic psyche. Yet quite soon, after one minute, that tribal approach returns, with shamanistic drums, didgeridoo (I think) and stuff. Slowly it devolves, introducing ominous passages filled with breath-taking sounds and scarifying tunes from different angles. Elements from Aghast return a couple of times (once again: it's a comparable sonic approach and atmosphere that states my comparison), and those ritualistic percussions too. Later on, semi-acoustic electronics and industrial elements get introduced, and both minimal chapters and heavily oppressive ones morph with each-other. After an inauspicious fragment – we're clocking about ten minutes – something like a war-horn appears, accompanying deeply captivating yet ultimately dark synths, bizarre noises and some additional percussions. It's like looking at Hekate's scepter, working hypnotic, even paralyzing, and the industrialized fragments can't make the listener able to try to escape.
The four individual compositions on this album are quite diverse, yet in an organic way they are deeply related too, making this whole album one majestic opus in honor of Hekate. It does need endurance and persuasion, this Hekateion, but after a few listens you will be left confused; addicted too.
Expect, by the way, a review soon on the split of Dark Awake with country-fellowman Kleistophobia (Aisxini Records), by the way!
https://darkawake.bandcamp.com/album/hekateion
https://www.aestheticdeath.com/releases.php?mode=singleitem&albumid=4860
https://www.youtube.com/watch?v=qpBNiTCghvg