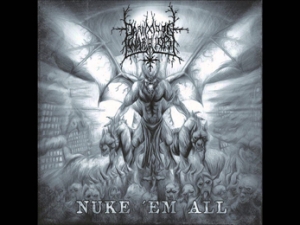 Release Date:
Monday, November 11, 2013
The German band Darkmoon Warrior was formed at the beginning of the second half of the nineties by two (anti) human beings, Grommon and Atom Krieg. During this era, they recorded stuff that sort of mixed the harsh Black Noise sounds of cult-act Abruptum with industrialised Ambient material à la Neptune Towers (you know, that excellent side-project of Fenriz) (cf. the demos After The Final Armageddon and After The Final Holocaust). Later on, and after the recruitment of other same-minded sick-heads, Darkmoon Warrior incorporated Black Metal elements, leaving the abruptumesque noiscapes in favour of more traditional Black Beauty. After a third demo (Son Of Loki) and a split with Luror, Shadows Towards My Sky and Eternity (We Walk The Infernal Path), the band recorded two full lengths, In Fundis Inferiorum (2005) and Crown Of Snakes (2009).
Nuke 'em All is Darkmoon Warrior's third full length album (clocking forty two minutes), recorded by founding duo Atom Krieg (vocals and bass) and Grommon (g), drummer L.V.X., who was part of the line-up on the last album as well, and newly recruited guitar player Greifenor, known from e.g. Gräfenstein. The album opens with the sweetly-entitled hymn Fuck Off (in some cases I would like to ask: please do! – but that's another, personal interpretation of human beings I do regrettably know), bringing pounding, up-tempo Black'n'Roll with a Teutonic edge. Next track Satanification is less thrash'n'rollin', but rather brings a Nordic-styled (in this case, read: Scandinavian-oriented) form of Old School Underground Black Metal with a minimal / nihilistic / primal approach in the vein of the early nineties. It's fast and fierce, and bringing back the purest essence of the so-called SWOBM (Second Wave of Black Metal). The third song, The Call, is comparable when it comes to the Scandinavian approach, but it comes with a slower, thrusting energy, yet once again flirting with the sheer of the nineties' blackest aural beauty. Black Tongues And Rusty Nails is enormously slow and pounding (not doom-laden, however, nor funereal or suicidal when it comes to the atmosphere), with faster parts and a mostly obscure, abyssal ethos. And please go on… The following tracks too combine the elements mentioned before, in a range that always canalises within spheres of nineties-oriented and Nordic-influenced Black Metal Fury. Forget post-modernism and bid welcome to the massive aural definition of Sonic Blasphemy!
For fans of: Gorgoroth and all possible comparable sulphuric-smelling Scheisse!