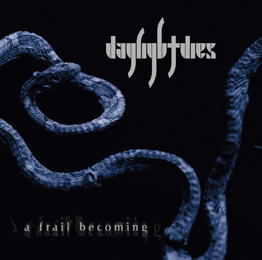 Daylight Dies were originally formed in 1996 in Asheville, yet in mean time they relocated to Raleigh (North Carolina). Throughout the years, the band recorded different studio works, amongst which three full length, and without exception all of them were reviewed extremely positively by the international press. It took a long time again (the last album, Lost To The Living, was released more than four years ago), but the quintet (Jesse Haff, Nathan Ellis, Egan O'Rourke, Barre Gambling and Charlie Shackleford) now returns with its fourth studio full length, A Frail Becoming, which got finally mixed at the famous Swedish Fascination Street Studio by top-producer Jens Bogren (think: Turisaz, Borknagar, Amon Amarth, Gwyllion, Ihsahn, Oceans Of Sadness a.m.m.).
This fifty-minutes epos resembles more to the band's latest effort, of course, rather than the debut, with a more traditional and timeless approach. The epic, atmospheric and melodic Doom-Death Metal tracks have been written and recorded by experienced musicians, making A Frail Becoming more mature than 2008's Lost To The Living. In spite of a total lack of originality, the band has surely found its proper sound.
Nice is the symbiosis of cleaner, somewhat softer passages in interacting with heavier, pounding parts, as well as the variety in between each track (acoustic passages versus guitar-driven outbursts, tempo-changes, different vocal timbres, rhythmic melodies in combination with melodious guitar solos, and so on).
FFO: early Katatonia, Ghost Brigade, Opeth, NovemberS Doom, October Tide, Swallow The Sun, Mourning Beloveth and the likes…