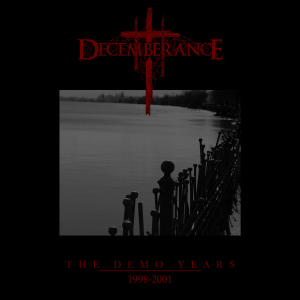 Decemberance was (sorry, 'is') an Athens, Greece based band, formed in the second half of the Nineties. However, one cannot exactly call this band a very productive one, for the number of recordings over more than two decades of existence is quite limited. But then again, don't we prefer just a few releases yet from a high quality instead of an overload of shitty stuff?... Anyway, after a couple of demos, the band had a first full length in 2009, called Inside (re-released in 2018 by Endless Winter), followed by Conceiving Hell in 2017 (also via their current label, the mighty Doom-label Endless Winter from Russian soil).
This review does not deal with a new recording, but with a compilation by this Greek act. But I think that, seen the title, you have been smart enough to figure that out already. It compiles both the first and the second demonstrational recording, which were both independently released in respectively 1999 and 2001. Besides a digital version, there is a physical one on compact disc, including a four-page booklet with sober yet intriguing cover artwork.
It was Gennady, the sympathetic human being behind Endless Winter, who proposed to have both demos compiled and re-released. Founding member and composer / lyricist / drummer / lead vocalist Yiannis Filippaios (he started the band with his brother Manos Kousourlis in 1997) wasn't sure this would be a good idea, but friends and colleagues convinced him. And I am glad he followed the other people's ideas. The material eventually got remastered at the Dysmorphia Studio by Andreas Karayiannis.
---------------------------------
The Demo Years 1998-2001 starts with the first demo (about twenty-seven minutes of length), simply called Decemberance, which was recorded in an Athens-based studio at the very end of 1998, and eventually released on tape. The opener Dying starts with an excerpt from Chopin's legendary Marche Funèbre. And damn, it has been covered a thousand times before, yet once again this specific adaptation actually is quite cool to enjoy (although 'enjoy' might not exactly be a fitting description…). Besides, the lyrical theme is taken from the Greek poet Kostas Karyotakis, who was member of the Lost Generation movement during last century's Twenties. This specific interpretation of the funeral march is based on a very low-tuned string section, a strong rhythm section, and both female voices and male whispering vocals. There is quite some variety in heaviness (with a couple of acoustic intermezzos), and remarkable are the keyboards. The latter somehow remind me of some other bands from last century, like very early The Gathering, Sinoath or Phlebotomized.
This trend continues via the other compositions, even though things get heavier as from When Darkness… Decemberance performs an old schooled form of Doom-Death Metal, with pu(ni)shing guitar riffs, crafted drum patterns, deep growling grunts, droning bass and rhythm guitars, and a main role for these remarkable synths. The variation is exceptionally well-thought, and then I am referring to the subtle tempo-changes, the acoustic intermezzi (like the short outro Sorrow, with its rainy samples), and the addition of female and whispered voices once in a while.
The production (done by some band members and Manolis Koutsakis) is not of the highest order, yet then again, we're talking about a recording from 1998, okay. And you might just like it, for it surely induces melancholia and nostalgia.
As I sleep… and see my funeral…
---------------------------------
The second demo, Just A Blackclad…, was released on cd in 2001, and recorded one year before with a slightly different line-up, in another studio, and with another team behind the studio panel. It goes on, and further, where the first demo recording ended, yet with a much better sound quality. Remarkable too is the length of the three epics on this album: in between twelve and twenty-one minutes, with a total running time of almost fifty (!) minutes!
Just A Blackclad… too seems to be highly inspired by The Gathering anno very early Nineties (cf. their unique demonstrational recordings An Imaginary Symphony and Moonlight Archer, and the debut Always). But the band adds two new details, which are very characteristic. In the first place, they make use of acoustic strings (not only acoustic guitars, but also violin, viola and cello), which might sound reminiscent of certain things My Dying Bride did in the past. And theirs is little more experiment, in both song-writing and execution. The first demo was like a try-out (and hey, not a bad one for sure), and this second one is like the result of Yiannis's creativity and experimentation. No, I do not want to allege that the band went 'progressive', for the stylistic approach still focuses on the roots of Atmospheric Doom Death majesty. But the last sequence of Just A Blackclad Figure, for instance, has something epic-folk oriented. And Nunquam then again has several excerpts with a funereal ambiance, as well as some harsh outbursts. And what about the hypnotising flutes in …Of Decay And Sadness (a piece of which the intro reminds me a lot of Evol, with these flutes, acoustic guitars and recognizable guitar riffs - FYI)?
I am alive… but painfully soulless…
---------------------------------
https://decemberance-official.bandcamp.com/album/the-demo-years-1998-2001
https://gsproduction.bandcamp.com/album/the-demo-years-1998-2001