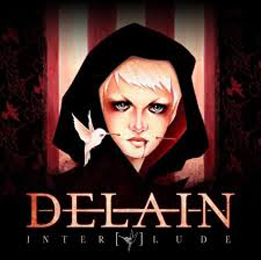 Interlude isn't just a 'new' album by Dutch Sympho-Metal band Delain. It's a special release in order to thank their fans for their support throughout the years.
Interlude, as a matter of fact, consists of thirteen songs: two new ones, written especially for this recording, two remixes, three cover tracks, and six live tracks. The album opens with Breathe On Me, a new song that sounds enormously poppy, with radio hit potential. It comes with a soft-electronic basement. Second new track, Collars And Suits, is a song in the vein of the past. It's such a track that would have been called 'female fronted Metal' a couple of years ago, i.e. a mixture of symphonic Rock, semi-Pop passages and Gothic Metal alike power. Next comes the New Single Mix of the single Are You Done With Me (comment: Rock-edged Pop Music for fans of Heart and the likes, I guess), followed by the three covers: Such A Shame by Talk Talk in a surprisingly interesting version, Cordell (The Cranberries), also not that badly covered (just a little too goody-goody, and a pretty stupid version of Smalltown Boy, originally performed by Bronski Beat. Then there's the so-called New Ballad Version of We Are The Others in an acceptable edition. The album finally ends with live versions of some tracks from the recent past, recorded at the Metal Female Voices festival. It proves the vocal qualities of Charlotte Wessel (and the rest of the crew) and the sound, by the way, is excellent.
Highly recommended to all fans of Delain!