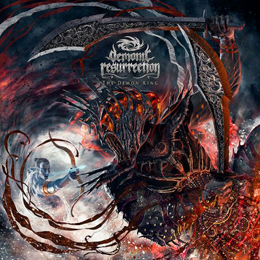 Despite the enormous population, India might not house so much internationally acclaimed Metal-acts. Lately, we can hear more and more stuff from out there (Zero Gravity, Dhwesha, Halahkuh, Exhumation, Dying Embrace etc.), thanks to the promotional boost offered via Transcending Obscurity, and the motivation and passion of Kunal Choksi, amongst others. But there is one Indian band that did conquer Mater Terra years ago: Demonic Resurrection. They were formed at the very beginning of this century by Sahil 'Demonstealer' Makhija in order to play their own stuff instead of being the xth cover-band. Throughout the former decade, Demonic Resurrection finished their Darkness-triptych, from which the last part, 2010's The Return To Darkness, was extremely positively reviewed by (almost) all international media. For this album, the band even won the Global Metal Award, organised by Metal Hammer. I for myself was pretty enthusiastic as well about that album (both other recordings that are part of the trilogy, were called Demonstealer and A Darkness Descends - FYI), though I had the impression these guys were trying too hard, which had a contra-productive result to my humble opinion. You can find the review on the October 27th 2010-update.
Demonic Resurrection (currently with new bass player Ashwin Shriyan, whom you might know from Blood Meridian / Reptilian Death; both of them strong Death Metal acts from India too; especially the latter has quite an impressive discography one cannot ignore) now return with their fourth full length studio album, The Demon King, once again available via major Candlelight Records. This fifty-minute-plus record goes, evidently, on in the vein of the former release, but it's stronger, much stronger. As a matter of fact, each Demonic Resurrection-release was more convincing than its predecessor, and I am truly happy (can you imagine me dwelling in happiness) that this evolution simply continues…
The Demon King collects ten songs that combine the technical harshness of the last album with symphonic elements from the earliest years, turning it into a new level of universal grotesquery. And I admit that the description 'grotesquery' often deals with fake or megalomaniac stupidity, but in this case I want to use this definition as an expression of my aural satisfaction. In comparison to the past, there are quite some remarkable progressions, like the sound (1), the song writing (2), the performance (3), and the atmosphere (4). A short explanation follows now. (1) The sound is less over-produced and sterile. It's still clinically accomplished, yet less imposed. (2) The quality of the songs have increased each time, but this time they are truly above average. It is remarkable how easy it seems to combine elements from different extremer styles, i.e. Heavy, Black, Death and Whatever Metal, and have it all sound so naturally organic and fluently. It also makes the cohesion sound more pronounced than ever before. (3) …which easily brings me to the experienced execution. It is not an evidence, yet rather preferable, to get better and better throughout years of activity, but in this band's case this evolution is extremely present. Sahil and his crew are active within the scene for quite some time, but that does not necessarily gets translated in technical amelioration. In this case, however, it does. The difference in between the former album and this one is hallucinating. The would-be expression of the former release has been traded for a mostly natural grandeur. Which easily brings me to (4), because the overall sphere is breath-taking, dreamy, well, there are no human words to define this evolution.
Winning some global award by, in all respect, a commercial major, that's one thing (and who am I to disagree with the market); but there is an audience that has another opinion, and that population is now to take over the duties! The Demon King is not as accessible as its predecessor, but I think it is much, much, much more interesting. Maturity, it isn't just a hollow definition. Maturity is what makes this album so much more mature… (oink?).