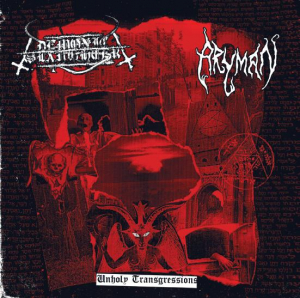 Release Date:
Thursday, February 28, 2019
I have never hid my appreciation (I was about to call it 'passion', but that sounds way too, eh, friendly, does it not) for the Polish (Black Metal) label Lower Silesian Stronghold. This label might have a specific philosophy, but from sonic point of view – or better: point of listen – they do house some excellent bands on their roster; and therefore some great releases too.
This label behind Dark Fury's master-mind Krzysztof aka Raborym (also known from e.g. Ohtar, Wolfspirit, Poprava or Selbstmord) surprises once more; this time with a split-release, consisting of two of Poland's finest: Demonic Slaughter and Aryman (and just FYI: there is a sweet relationship with Hass Weg Productions once again). I like what these acts did in the past (there are a couple of reviews done by undersigned; see below for the link-review), yet since there was quite some hiatus in between their latest recordings (2015/2016) and this specific split, it made me somehow aroused to notice that both of them are still dwelling around, and that they did join forces under the protecting wings of Lower Silesian Stronghold. The result is a six-tracker; both projects appear with three songs that clock about fifteen / sixteen minutes play-time for each of them (total running time just over half an hour). Yet even though this material got released in 2019 (an older release, but I never mind giving attention to 'older' material as long as it deserves my worthy time and energy), the main recording session (for both of them) date from 2016/2017 and even earlier.
Anyway, it's an aural pleasure to have these two bands gathered, and this via a jewel-case compact disc edition, which includes a folded twelve-page booklet. That one includes the lyrics (in English when it comes to Demonic Slaughter; for Aryman the texts are in their native tongue), and with explicit poster-alike artwork that deals with everything that stinks: demonism, decay, desolation, death and despair (ddddd…). And both of them have the pleasure to vomit and piss and spit on tolerance and a perverted vision on the current pan-European philosophy. No further comment…
The first three 'songs' are done by Demonic Slaughter, one of the (many) projects that include Xaos Oblivion. Together with long-time collaborator / guitarist Ghost Of Wrath (nowadays located in the UK?), Kamil 'Xaos Oblivion' did record three pieces at his Zen Xaos Studio, and this over a period of 2016 to 2017. They take off with the magnificent intro Enter The Funeral, which is based on a slow yet intriguing piano melody, assisted by gloomy synths and some background percussion. It feels like a soundtrack for some ominous and nightmarish event, mingling stunning beauty with imminent horror. Fine. Yet with Black Transgression, the next title out of three, you'll get confronted with the purest raison d'être of this duo. It's a mid-tempo piece, yet with quite some remarkable changes in tempo. The latter gets caused by the drum programming especially; I mean that some sudden faster drum patterns create the impression of more energy and dynamism. Of course the whole is very melodious, the hypnotising way, with a focus on tradition as well as an own-faced approach. The better part is built around tremolo leads especially, and that characteristic throat of the vocalist (not the 'usual' shrieks or screams, yet rather some wretched voice that canalises both pain and wrath). In a majestic and epic way, this lengthy piece accompanies the listener on an adventure through snowy mountains and dark woods, invoking the Spirits of Old, celebrating ancient ceremonies of Gods that will never be forgotten. The drum-work (as mentioned, I have the impression that these are no live-played drums but programmed percussions) adds a dimension of kinetic, even pulsating power, but it's the string-work and vocal side that results in a dense, heavy, onerous sound. The track Totenwelt (German title, yet also with English lyrics) continues that path, yet is more intense and pounding / pushing, like this project's older work. Here too the drum programming adds that semi-chemical attitude, and the hypnotising duelling tremolo guitar leads strengthen the elegance of grimness, intolerance and negativity. A hateful message translated via melody and rhythm it is, and somehow it works addictive and intoxicating. I do have the impression, however, that the influence of the Nordic scene is less perspicuous, and that's a good evolution for sure.
Aryman (i.e. drummer Non Serviam (such talented skin-beater), bassist Hakael (he left in the meantime) and guitarists Nefarius and Tarrom) did record their material in 2014. As from 2016, the vocal lines got registered as well, courtesy of Kamil 'Xaos Oblivion', who evidently took care of mix and mastering too. This stuff is faster and more aggressive than Demonic Slaughter's contribution, yet at least as oppressive and nasty. The raw, buzzing sound offers, once again, a feeling of old styled bestiality (adorable it is, isn't it?), and the variation in speed and song-structure is unbelievably intriguing. Ah, listen for example to Stoję And Twym Grobem ('I'm standing over your grave'), the longest Aryman-piece out of three, to experience the foggy yet majestic approach of this Polish act. That intermezzo at about half of the track is just marvellous. The intense piece Diabelski Majestat ('diabolical majesty') (waw, what a force, and what a crushing drum-work), with that chainsaw sound and bleak atmosphere, and the very epic hymn Inwokacja Ojców Grzechu ('invocation of fathers of sin') too show this band's remarkable, and intelligent, song-writing and execution. Do not expect something renewing – you will be disappointed – but just enjoy the roughness and honesty, the pride and conviction.
FYI: in the meantime, Aryman did independently release a new full-length album, …I Nienazwanych Dyjabłów (re-released recently on CD via Doomsday Elite and on vinyl by Lower Silesian Stronghold indeed).
Conclusion: Unholy Transgression is a remarkable collaboration, a very fine split in between two uncompromising acts from Polish soil (with a mutual member, as mentioned before). Okay, the production is not über-clean, but who cares about that. I appreciate that coarse, unpolished edge; and the sound-mix of all instruments is, in both cases, more than acceptable, without clinical exaggeration. Recommended stuff!
https://www.metalshop.cba.pl/index.php?id_product=5926&controller=product&id_lang=1
https://aryman.bandcamp.com/album/unholy-transgressions
https://hassweg-prod.com/fr/prods-lower-silesian-stronghold/7776-demonic-slaughter-aryman-unholy-transgressions.html
https://www.concreteweb.be/reviews/demonic-slaughter
https://www.concreteweb.be/reviews/aryman
https://www.concreteweb.be/reviews/xaos-oblivion