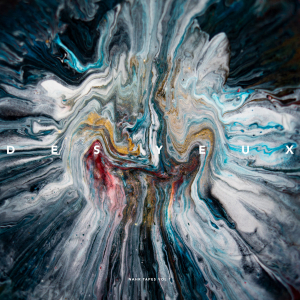 With some delay, this album came my way (initially send to the former boss of this webzine, my dear friend, who passed away) – but hey, never mind, because it is never too late to express appreciation. In this case it deals with a Brussels-based trio, Des Yeux (French for '(the) eyes'), consisting of Albin Wantier (voices, keyboards, guitars, programming; ex-OMSQ / Veda), Jean Tignol (bass and drums; ex-Sunken), and Bertrand Dubois (drums, bass, synths; also formerly in OMSQ). The band once recorded a first album, but since they were not pleased with the result, it never came out. After some meditation and experimentation, they decided to try another angle, a more natural and brutal approach in order to focus on what they call the real essence of their material, and that seemed to work out very well. The result is a collection of three monumental pieces, gathered as Nahr Tapes Vol. 1.
Des Yeux wrote, recorded, produced and mixed this material themselves, only helped out for mastering duties by Hell Seb. They signed to Navalorama Records (with acts like OMSQ, Ice Dragon, Yadayn, Swingers or von Stroheim on their roster). This first official album got released (besides in a digital edition) on compact disc, in a gatefold card case, though limited to 100 copies only. Nahr Tapes Vol. 1 consists of three compositions that clock in between ten and fifteen minutes each (total running time: over thirty-six minutes).
Des Yeux make a somewhat bizarre and eccentric yet unique mixture of different genres, resulting in a coherent sonic spectacle. The main focus lies on Sunn O))) alike Ultra Sludge, based on several layers of monumental string heaviness. They are quite slow, these riffs, totally doomed out, and the fact that there are many (bass / electric) guitar layers involved, make the result enormously harsh and colossal. Yet still the band succeeds to remain melodic too. Besides, Des Yeux inject their Doom Sludge Drone material with different synth fragments, sometimes psychedelic or semi-astral, then again rather atmospheric, floating, dreamlike, mesmerizing. More than once, this reminds me of Oranssi Pazuzu and the likes; even Esoteric might come to mind.
There is quite some variation going on too. Then I am talking about, for example, ambient intermezzi, the addition of acoustic guitars, the subtle use of distant sounding voices and samples, as well as the numerous changes in song structure and tempo. Further, Des Yeux penetrate their compositions with jazzy and progressive elements too, and different details from Post Rock and Noise Rock.
The whole has a very trippy and hypnotic character, spacey and druggy, if you want to, but the positive thing is that the members do not exaggerate. They do create chaos for sure, yet it is structured chaos, with all instruments existing in a smooth, well-balanced cooperation. Despite a certain repetititititivity, the hidden details and elements underneath make this a bold yet exciting expedition through the listener's psyche.
I am pretty sure that Nahr Tapes Vol. 1 will be tasted with sardonic pleasure by fans of, well, bands and projects like aforementioned Sunn O))) and Oranssi Pazuzu, as well as Lord Of The Grave, Adai, Coltsblood, Teeth Of Lions Rule The Divine, Dark Buddha Rising, Grime and the likes; even Aidan Baker or  Horseback might come to mind, to give you an idea…
https://desyeux.bandcamp.com/album/nahr-tapes-vol-1
https://navaloramarecords.com/desyeux/