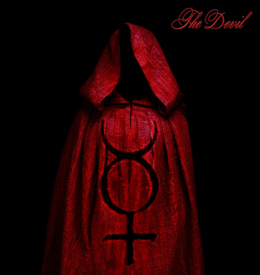 Release Date:
Monday, November 19, 2012
London, UK-based band The Devil debut with a nameless, self-produced album, which I've seen being compared to Swedish Ghost. For a modest part I can understand why (like the masked identities), for another modest part I do not fully agree. Main reason: The Devil are less mainstream and much more obscure in theme, while The Ghost appear as a Metal-circus with an image prevailing on content.
This mysterious sextet (the members' identities are secret, their faces hidden behind masks) created a very long epic journey with a cinematic approach, after four years of intensive elaboration. The instrumental tracks come with excerpts taken from (historical) interviews, movies, live reports (like the WTC-attack in 2001) or political speeches, and those excerpts do give the whole a rather eerie feeling, of course. As a (logical) result, the band has been chosen a few times to have one of their songs used for soundtracks. Opener Divinorum, for example, will be used in the film The Fury, a motion picture of director James Colmer (think: Superman Returns, See No Evil or House Of Wax), which will feature Blair Witch Project / Texas Chainsaw Massacre's Erica Leerhsen.
The musical approach, besides the sound-sample's addition, is based on Traditional proto-Doom riffs and structures, with a very important, leading role for keyboard support; the latter in many aspects: both prominent and background, both atmospheric and haunting.
The opinion of this album can dwell in between two extremes: the direction of appreciation or the leave-me-confused result. When it comes to the first, it will certainly have to do with the unique concept. It makes the listener curious, with anxiety and underestimation. It makes the listener (need to) be an active part of the concept to wrestle through the complexity of this sonic journey. But it might be a weary mission to fully abide these thirteen sound collages of human life for them being indicative for our pathetic kind - humans as self-destructive, and all-destroying entities with a doubtful right to exist. You do not need to be a misanthropist to get the picture.
Finally this: the band will bring this aesthetic material live on stage; I do really wonder how they will concretise this!